SMA Althera Hypoallergenic Formula 450g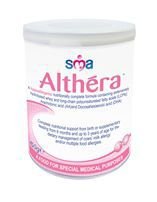 SMA Althera Hypoallergenic Formula 450g
£12.99
This product is limited to 6 per order.
This product is typically dispatched within 3-5 working days from date of order and is not suitable for our next day delivery service.
Brand: SMA
Code: 3787413
Weight: 510g (includes packaging)
Description
Althéra is a hypoallergenic nutritionally complete powdered formula containing extensively hydrolysed whey protein, carbohydrate, fat, vitamins, minerals, trace elements and the long-chain polyunsaturated fatty acids (LCPs); Arachidonic acid (AA) and Docosahexaenoic acid (DHA).
ACBS approved. Althéra is for complete nutritional support from birth or supplementary feeding from 6 months and up to 3 years of age for the dietary management of cows' milk allergy and/or multiple food protein allergies.
Directions
Age of infant

Quantity per meal

Meals per day

Water (ml)

Number of scoops (scoop size = 4.4g)

1 – 2 weeks

90

3

6

3 – 4 weeks

120

4

5

2nd month

150

5

5

2 – 4 months

180

6

5

5 – 6 months

210

7

5

6 Months +

210

7

3 - 4
Wash hands well. Sterilise feeding equipment.
Boil water and leave to cool for no more than 30 minutes to ensure it remains at a temperature of at least 70oC
Measure out the required amount of water into the bottle. Do not use artificially softened water or repeatedly boiled water.
Using the scoop provided, add the prescribed number of scoops of Althera to the water, levelling each scoop off with the back of a clean, dry knife.
Put cap on and shake well. Test the temperature before feeding by shaking a few drops onto the inside of your wrist the feed should feel warm or cool, but not hot.
Althéra is now ready to use.
Any formula remaining in the bottle after two hours should be discarded.
Do not reheat the formula once feeding has started.
Warnings
Unopened store Althéra in a cool, dry place. Once opened use within one month.
Must only be used under strict medical supervision after full consideration of feeding options, including breastfeeding.
Suitable from birth to 3 years of age.
For enteral use only.
Do not reheat Althéra in a microwave as uneven heating may occur and could cause scalding.
Ingredients
Maltodextrin, Lactose (from Milk), Vegetable Oils (Palm, Rapeseed, Coconut, Sunflower Oils), Hydrolysed Whey Protein (from Milk)*, Minerals (Potassium Phosphate, Magnesium Chloride, Calcium Phosphate, Calcium Chloride, Ferrous Sulphate, Zinc Sulphate, Sodium Chloride, Potassium Chloride, Copper Sulphate, Potassium Iodide, Sodium Phosphate, Potassium Citrate), Emulsifier (E472c), Vitamins (C, E, Niacin, Calcium Pantothenate, Riboflavin, A, Thiamin, B6, Folic Acid, D, K, B12, Biotin), Taurine, Long Chain Polyunsaturated Fatty Acids (AA, DHA), Inositol, Choline Bitartrate, L-histidine, L-carnitine.
You may also like