SMA Lactose Free Milk Powder 430g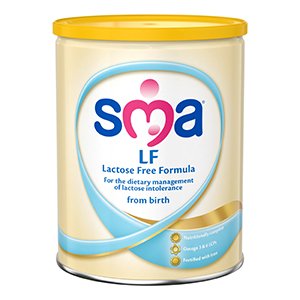 SMA Lactose Free Milk Powder 430g
£5.49 Save: £0.50 RRP: £5.99
This product is limited to 4 per order, if you wish to order more please contact the pharmacy team/customer services.
Delivery options for this product have been restricted. More details about the delivery options available will appear if you add this product to your basket.
This product is typically dispatched within 3-5 working days from date of order and is not suitable for our next day delivery service.
Brand: SMA
Code: 2404127
Weight: 430g (includes packaging)
Description
Food for special medical purposes.
Specially tailored formula.
Nutritionally complete.
Easy to digest.
SMA's Gold System is an advanced range of specially designed formulas to help meet the nutritional needs of babies and young children. Every product has a tailored nutrient profile for each stage of growth and development.
SMA LF from birth onwards for infants and young children with proven lactose intolernace. A nutritionally complete formula for the dietary management of infants and young children who are intolerant to lactose or sucrose, or who are suffering from symptoms such as diarrhoea, tummy ache or wind that could be caused by temporary lactose intolerance.
It is suitable as the sole source of nutrition for infants from birth in place of your usual formula feed. For older babies, it can be used as part of a mixed weaning diet. It is suitable for use up to eighteen months of age and may be used for older children and adults with lactose intolerance as part of a lactose free diet.
SMA LF is not for those who are allergic to cows' milk protein or who suffer from galactosaemia or require a galactose free diet.
SMA LF is suitable for dietary management of primary and secondary lactose intolerance.
SMA LF is not for parenteral use.
SMA Nutrition has a comprehensive range of products to help suit babies' feeding needs.
Suitable for vegetarians.
Suitable for Halal.
Directions
We recommend preparing each feed in individual bottles, when required.
Always throw away unfinished feeds, for reasons of hygiene.
For older babies, made-up SMA LF can be added to food, and used in cooking. Never add any food to the milk in your baby's bottle. Do not warm feeds in a microwave oven as this may cause uneven heating and could scald your baby's mouth.
Failure to follow instructions on preparation and storage may make your baby ill.
Wash hands well. Sterilise all utensils according to manufacturers' instructions.
Boil full kettle filled with fresh tap water. Important: The UK and Irish Governments recommend allowing the boiled water to cool to no less then 70°C. In practice, this means using water that has been left for less then 30 minutes of water (Carefully - the water is hot) into the sterilised bottle - see feeding table. Do not use artificially softened water or repeatedly boiled water.
Using the scoop provided in this can, add the correct number of scoops of powder to the bottle according to the feeding table, levelling off each scoop with the back of a clean dry knife. Do not add extra powder or water to make feeds stronger or weaker and do not press powder into scoop. Using too much or too little powder could make your baby ill.
Place the sterilised teat and cap on the bottle and shake well. Cool bottle under cold running water until lukewarm. Test temperature by shaking a few drops onto the inside of your wrist.

If advance preparation is necessary, consult your healthcare professional.
Warnings
Use within 4 weeks of opening and store in a cool dry place.
Do not refrigerate.
For hygiene reasons, do not store made up feeds. Make up each feed as required and always discard unfinished feeds after 2 hours.
If necessary offer cooled boiled water between feeds. Do not heat in a microwave . Hot spots may occur and cause scalding.
Infants should be supervised at all times when feeding. Never leave your baby alone during feeding.
Ingredients
Dried Glucose Syrup, Vegetable Oils, Milk Proteins, Potassium Chloride, Sodium Phosphate, Calcium Citrate, Potassium Phosphate, Emulsifier (Soya Lecithin), Calcium Carbonate, Potassium Bicarbonate, Calcium Phosphate, Magnesium Phosphate, Calcium Hydroxide, Inositol, Sodium Chloride, Choline Chloride, Vitamin C, Magnesium Carbonate, Taurine, Potassium Hydroxide, L-Carnitine, Ferrous Sulphate, Zinc Sulphate, Cytidine-5'-Monophosphate, Disodium Uridine-5'-Monophosphate, Vitamin E, Niacin, Adenosine-5'-Monophosphate, Disodium Inosine-5'-Monophosphate, Vitamin A, Pantothenic Acid, Disodium Guanosine-5'-Monophosphate, Riboflavin, Manganese Sulphate, Thiamin, Copper Sulphate, Vitamin B6, Vitamin D, Potassium Iodide, Folic Acid, Vitamin K, Biotin, Sodium Selenite, Vitamin B12
You may also like