Thixo D Cal-Free 30g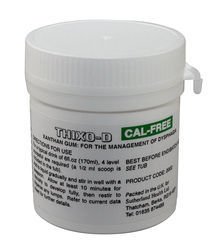 Thixo D Cal-Free 30g
£4.39 Save: £0.09 RRP: £4.48
This product is typically dispatched within 3-5 working days from date of order and is not suitable for our next day delivery service.
Brand: Thixo D
Code: 2175941
Weight: 35g
Description
Thixo-D Cal-Free is gluten, milk, calorie and carbohydrate free and is suThixo-D Cal Free is Xanthan gum based and is designed to rapidly thicken most liquids and foods such as pureed apple, mashed potato, tea, coffee, fruit juices, soups, sauces etc. without masking the flavour or leaving an aftertaste. Thixo-D Cal Free is ideally suited for the diets of those with swallowing difficulties (Dysphagia). It is also so ideal for those on the Ketogenic Diet or other carbohydrate free diets as Thixo-D Cal Free is calorie, carbohydrate and gluten free.
Thixo-D Cal Free can be mixed easily to the required consistency and is not affected by heat or pH-value meaning it remains stable even after microwaving and freezing. It is also approved by the Vegetarian Society and is suitable for vegetarians and vegans. Thixo-D Cal Freeitable as a dietary additive for the ketogenic diet.
Directions
A 1/2ml measuring scoop is included in each tub of Thixo-D Cal Free for ease of measuring. The scoop contains approximately 0.25g (level) or 0.5g (heaped). It will take approximately 10 minutes for a drink to thicken. If the thickness is not what is required, more Thixo-D Cal Free or liquid may be added to adjust it.
Warnings
Use only as directed.
Store at room temperature
Re-seal and store in dry conditions at room temperature for up to 6 weeks
Mixed with Foods: Treat in similar manner to non-thickened foods
Used in drinks: At room temperature - maximum 2 hours chilled (4°C) - maximum 24 hours
Spillage: A dry method of cleaning up should be used, such as brush or vacuum cleaner. Removal will be made more difficult if water is used as the starch will rehydrate to form a gel.
You may also like