Veet Supreme Essence In Shower Cream 135ml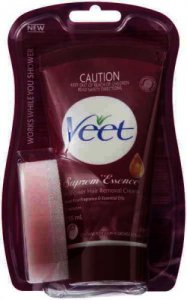 Veet Supreme Essence In Shower Cream 135ml
£5.90 Save: £1.09 RRP: £6.99
This product is typically dispatched within 3-5 working days from date of order and is not suitable for our next day delivery service.
Brand: Veet
Code: 3510765
Weight: 185g
Description
Discover Veet Supreme Essence In-Shower Hair Removal Cream, for moisturised and delicately scented smoothness.
Veet Suprem'Essence formula has been enriched with a blend of essential oils and velvet rose fragrance to leave your skin moisturised and delicately scented. Its new formula removes even very short hair effectively without cutting it, so hair grows back feeling softer. Do not use on skin has been depilated in the last 72 hours.
Thanks to a unique combination of water resisting ingredients the cream has the power to stay on the skin in the shower. Cream comes with a soft sponge to leave your skin silky smooth for up 4 days.
Veet Supreme Essence in-shower hair removal cream for normal to dry skin has been specially formulated to give you impeccably smooth skin in just 3 minutes. Enriched with essential oils and a delightful velvet rose fragrance, it leaves even dry skin feeling beautifully moisturised, touchably soft and delicately scented. Suitable for your legs, arms, underarms and bikini line, it works even on very short hair for luxuriously smooth skin that lasts for up to 4 days. The special formula means you can use it even while you shower - simply cover the desired area with cream using the soft, coloured side of the sponge provided, wait for 1 minute and step into the shower. Don't worry if the cream starts to wash away, just direct the water stream away from covered areas for the first 2-6 minutes of showering, then wipe off the cream, using the white side of the sponge to pull dissolved hairs away for impeccably smooth skin.
Depilatory creams like this one have a number of advantages over shaving: there's no risk of nicks or cuts, hair takes longer to grow back and, when it does, is softer than shaved hairs. This is because razors slice off the ends of hairs, leaving sharp edges which are in line with the skin and become exposed within hours, resulting in a prickly feeling. Conversely, creams such as this one dissolve the proteins which make up the hair, leaving smooth rounded hairs just below the skin which take longer to become exposed and feel softer when they do, for sensuous softness that lasts.
Directions
Read precautions before use.
Ensure that the total application time on the skin does not exceed 6 minutes.
Before showering, apply the cream evenly onto dry skin using the soft, coloured side of the dry sponge. Ensure the hair you want to remove is completely covered with cream. Do not rub in. Wash hands thoroughly.
Once applied, wait at least 1 minute before stepping into the shower.
Whilst in the shower continue with your normal shower routine. Don't worry if some cream gradually washes away when in contact with running water. To prevent cream from washing off too soon, avoid exposing those parts of the body covered with cream to the direct stream of water within the first 2 minutes in the shower.
After the cream has been in contact with your skin for a total of 3 minutes, gently use the white side of the sponge to test a small area. If hair comes away easily, remove the remaining traces of cream with the white side of the sponge by massaging in circular motion. If you feel you have more stubborn or thick hair, we recommend leaving the cream on a little longer, up to, but not exceeding 6 minutes of the total application time. The soft, coloured side can be used for sensitive areas.
Rinse your skin thoroughly under the shower after use. Rinse the sponge. Keep tube closed when not in used.
Warnings
Designed for use on legs, arms, underarms & bikini line, but not suitable for use on the face, head, breast, perianal or genital areas or on any other body parts.
Do not use on scars, moles, spotty, broken, irritated or sunburnt skin, on skin which has been depilated in the last 72 hours or on skin which has suffered an adverse reaction to hair removal creams in the past.
Check with your doctor before using if you are on any medication which can affect the skin or if you suffer from any skin related disorder.
Before each use, test your skin reaction by applying the cream to a small part of the area you wish to treat, following the directions for use. If after 24 hours there is no adverse reaction, begin using.
If you experience any smarting/tingling during use, remove the cream immediately and rinse thoroughly with water. If this sensation persists, seek medical advice.
Do not exceed 6 minutes total application time.
After use, we recommend waiting 24 hours before applying an anti-perspirant, a perfumed product, swimming, sunbathing or using artificial tanning equipment.
Always wait 72 hours between applications.
Keep out of reach of children. In case of ingestion, consult a doctor immediately and show the outer pack.
Avoid contact with the eyes. In case of contact with the eyes, rinse immediately with plenty of water and seek medical advice.
Contains alkali and thioglycolate.
Ingredients
Aqua, Urea, Cetearyl Alcohol, Potassium Thioglycolate, Paraffinum Liquidum, Calcium Hydroxide, Ceteareth-20, Talc, Glycerin, VP/Hexadecene Copolymer, Parfum, Potassium Hydroxide, Magnesium Trisilicate, Propylene Glycol, Lithium Magnesium Sodium Silicate, Butyrospermum Parkii Butter, Sodium Gluconate, Limonene, Citrus Aurantium Dulcis Peel Oil, Citrus Grandis Peel Oil, Benzyl Alcohol, Acrylates Copolymer, Linalool, Butylphenyl Methylpropional, Methylchloroisothiazolinone, Methylisothiazolinone, CI 77891
You may also like