VSL 3 Probiotic Food Supplement Sachets 4.4g Pack of 30 (Fridge line)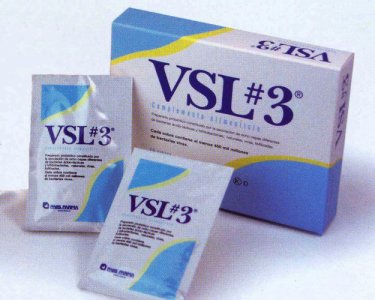 VSL 3 Probiotic Food Supplement Sachets 4.4g Pack of 30 (Fridge line)
£55.00
Requires storage between 2 and 8°C. Must be delivered in a cool box on Special Next Day tariff.
This product is typically dispatched within 3-5 working days from date of order and is not suitable for our next day delivery service.
Brand: VSL3
Code: 3400942
Weight: 100g (includes packaging)
Description
PLEASE NOTE THAT THIS ITEM MUST BE DELIVERED IN A COOL BOX AND SO POSTAGE WILL NEED TO BE AMENDED TO £7.49 - PLEASE SELECT SPECIAL NEXT DAY DELIVERY WHEN PROMPTED DURING CHECKOUT.
VSL 3 contains 8 different strains of beneficial bacteria which have been selected on the basis of scientific studies for their ability to bond to the walls of the digestive tract. The unique blend of beneficial bacteria in VSL 3 works by colonising the gastrointestinal tract with 'good' bacteria, helping to sustain a favourable balance of bacteria in the gut.
Maintaining a favourable balance of beneficial bacteria helps keep the 'bad' bacteria at bay.
Open the sachet and stir the contents into cold water or any non-fizzy drink or food and consume immediately.
It can take a few days or weeks for the balance of bacteria in the gut to adjust and may take up to one month to become stable.
Directions
The recommended daily intake of VSL 3 is 1-2 sachets a day. Most people start with 1 sachet per day for approximately 2 weeks and then adjust as needed
Warnings
Please keep this product out of the sight and reach of children.
Pregnant or breastfeeding women should talk with their doctor or other healthcare professional before taking this or any other food supplement
VSL 3 is believed to be compatible with all types of drugs. If you take it with antibiotics, it willl not harm you but the effects of VSL 3 will be reduced. This is because antibiotics can inactivate the beneficial bacteria in VSL 3.
When you start taking VSL 3 you may experience bloating while the balance of bacteria in your digestive tract changes. If you experience bloating, you. may need to reduce your daily intake to allow for this adjustment.
Packets should be stored in a refrigerator (2-8°C). If unopened and stored refrigerated, the product can be used up until the 'Best Before' date. VSL 3 can be stored at room temperature (up to 25°C) for up to 7 days without adversely affecting the potency.
This product contains traces of gluten, soy, lactose and skimmed dehydrated milk.
Sachets should be refrigerated (2-8°C). If unopened and stored under refrigeration, the product is guaranteed until the "Best before" date, which is 24 months from manufacture.
Ingredients
Each packet contains 450 billion live lactic acid bacteria and bifidobacteria.
There are 8 different strains of beneficial bacteria which were specially selected; Streptococcus thermophilus Bifidobacteria (B.breve, B,Longum, B.Infantis)Lactobacillus acidophilus Lactobacillus plantarum Lactobacillus paracasei Lactobacillus delbrueckil subsp. Bulgaricus. Other ingredients include: maltose, silicon dioxide
You may also like