Wellman Hairfollic Tablets Pack of 30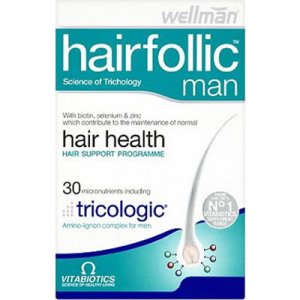 Wellman Hairfollic Tablets Pack of 30
Description
The changes which occur as we age, as well as an inadequate diet, stress, hair styling and lifestyle, can all have an impact on the normal health of our hair.
Hairfollic is a specialist, expert formula of bio-active nutrients based on the latest scientific research delivering its benefits via the bloodstream for optimum results. Contains biotin, selenium and zinc which help to maintain normal hair.
Advanced micronutrient formula
Hairfollic Man is a carefully balanced combination of vitamins, minerals and bio-active nutrients. Each tablet provides micronutrients including biotin, selenium and zinc which contribute to the maintenance of normal hair.
Hairfollic Man also includes the exclusive Tricologic Amino-lignan complex. Hairfollic Man delivers its benefits via the bloodstream directly to the hair roots and has been formulated on the basis of the latest scientific research.
Nutrition and your hair
Each hair follicle is a highly active metabolic "factory"; requiring oxygen, energy and protein synthesis to maintain normal healthy hair.
The specialist nutrients in Hairfollic Man
Hairfollic Man includes Tricologic, a proprietary combination of selenium and zinc which contribute to normal hair, plus lignans, amino acids and grape seed extract proanthocyanidins.
Hairfollic Man also provides other important nutrients including copper which contributes to normal hair pigmentation.
As Hairfollic Man is an orally administered supplement, its benefits are delivered via the bloodstream directly to the hair root and dermal layers of the scalp where they are needed most. The level of each individual nutrient in Hairfollic Man and precise combination has been developed by Vitabiotics' experts, to maximise its benefits.
Skin and Nail Support
Hairfollic Man also contains support for your skin and nails, with vitamin C which contributes to normal collagen formation, plus niacin (vitamin B3) which contributes to the maintenance of normal skin. The formula also contains zinc and selenium which contribute to the maintenance of normal nails.
All round nutrition
The Hairfollic Man formula provides a comprehensive balance of nutrients, including vitamin D which helps to maintain normal bones and folate which helps to reduce tiredness and fatigue. An additional multivitamin is not necessary.
Directions
Take two to three tablets per day with your main meal.
Swallow with water or a cold drink. Not to be chewed.
Do not exceed the recommended intake.
Hairfollic can be continued for as long as required.
Warnings
As with other food supplements, seek professional advice before using if you are under medical supervision, pregnant, breast-feeding, suffer from food allergies, or are allergic to any of the ingredients.
Food supplements must not replace a varied and balanced diet and a healthy lifestyle. This product contains iron which if taken in excess may be harmful to very young children. A general multivitamin and mineral supplement is not necessary in addition to Hairfollic. Not to be taken on an empty stomach (see directions).
To protect the natural ingredients in Hairfollic, always store as directed below. Store below 25°C in a dry place, out of sight and reach of children.
Ingredients
Bulking Agents: Maltodextrin, Microcrystalline Cellulose & Gum Acacia, Choline (as Bitartrate), Vitamin C (Ascorbic Acid), Standardised Lignan Extract, Pantothenic Acid (as Calcium Salt), Magnesium Oxide, Tablet Coating (Hydroxypropylmethylcellulose, Natural Source Colours [Iron Oxides], Glycerol), Vitamin E Natural Source (as D Alpha Tocopheryl Acid Succinate) (from Soya), L-Cysteine, Zinc Sulphate, L-Lysine, Anti-Caking Agents: Stearic Acid & Magnesium Stearate, N-Acetyl Cysteine, L-Methionine, Inositol (as Myo-Inositol), Niacin (Nicotinamide), Para Amino Benzoic Acid, Silicon Dioxide, Ferrous Fumarate, Thiamin (Vitamin B1 Mononitrate), Vitamin B6 (Pyridoxine HCl), Proanthocyanidins (Grape Seed Extract), Natural Mixed Carotenoids (Betacarotene [Carriers: Starch, Glucose Syrup, Antioxidants: DL-Alpha Tocopherol, Sodium Ascorbate]), Riboflavin, Vitamin D3 (Cholecalciferol [Carriers: Acacia, Sucrose, Corn Starch, Medium Chain Triglycerides, Antioxidant: DL Alpha Tocopherol]), Copper Sulphate, Manganese Sulphate, Folic Acid (as Pteroylmonoglutamic Acid), Sodium Selenate, Chromium Trichloride, Potassium Iodide, Biotin, Vitamin B12 (Cyanocobalamin).
You may also like