Wellman Skin Technology Tablets Pack of 60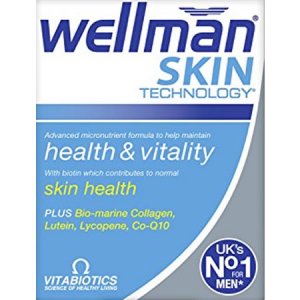 Wellman Skin Technology Tablets Pack of 60
£10.99 Save: £6.32 RRP: £17.31
Brand: Vitabiotics
Code: 3580081
Weight: 93g (includes packaging)
Description
Wellman is an advanced range of men's supplements, designed for the nutritional intake and lifestyle needs of men. Wellman vitamins for men are based on extensive international research and provide comprehensive multivitamin formulations to help support men's health.
Wellman Skin Technology is an advanced, specialist supplement, developed to help men stay looking their very best. From the UK's number 1 men's supplement brand, Wellman. The advanced skin formula is a major development in male nutrition, with a unique combination of 30 nutrients including biotin which contributes to normal skin health. It also includes bio-active nutrients Biomarine Collagen, Lutein, Lycopene and Co-Q10. These nutrients are delivered via the bloodstream at the very deepest level, to the dermal layer of the skin, hair follicles and nail beds. It's no wonder dermatologists are increasingly looking to the role of nutrition in helping keep skin looking at its best.
Male Grooming and Skin
Male skin tends to be structurally different from women's skin and therefore has different needs. The main differences include skin thickness, texture, PH and hydration. Men's skin is about 25 percent thicker than a women's but it also thins with age so it is important to provide the skin with the correct nutrients. Shaving can be harsh on the skin and each time men shave it removes the top layer of the skin, Wellman Skin Technology includes specific micronutrients chosen for their role in helping to maintain normal skin health, including biotin which contributes to normal skin health and vitamin C which contributes to normal collagen formation for the normal function of skin.
Skin and Collagen Formation
Collagen can help to maintain skin density and can help to keep skin supple. Men have a higher collagen density than woman regardless of their age and this is why researchers believe women appear to age faster than men of the same age. However men don't generally take as much care of their skin as women, who take greater precautions to protect their skin against ageing.
Wellman Skin Technology contains vitamin C which contributes to normal collagen formation for the normal function of skin, plus riboflavin (vit.B2), niacin (vit.B3) and biotin which contribute to the maintenance of normal skin health.
Cell Protection
Skin changes are related to many factors including the environment, pollution, our genetic makeup and nutritional intake. The most significant cause of premature skin ageing is sunlight (UV radiation) and the high levels of damaging free radicals this generates. Wellman Skin Technology includes vitamins C and E, riboflavin (vit.B2) and minerals copper, selenium and zinc which contribute to the protection of cells from oxidative stress. The formula also includes vitamins D and B12, folic acid with minerals iron, magnesium and zinc which contribute to the maintenance of normal cell division.
Hair and Nail support
While you are looking after your skin, you can help to look after your hair and nails as well. Wellman Skin Technology also contains selenium and zinc which contribute to the maintenance of normal hair and nails.
All Round Health and Vitality
Helps to maintain health and vitality, with 30 nutrients including B vitamins, Thiamin and B6 which contribute to normal energy release along with iron, vitamins B6, B12 and riboflavin (vit. B2) which contribute to normal red blood cell formation. A separate multivitamin is not required.
Directions
Two tablets per day with your main meal. Swallow with water or a cold drink. Not to be chewed.
Do not exceed the recommended intake. To be taken on a full stomach.
This comprehensive formula replaces other Wellman supplements and multivitamins. There is no need to take an additional multivitamin.
Warnings
Food supplements must not replace a varied and balanced diet and a healthy lifestyle. As with other food supplements, seek professional advice before using if you are under medical supervision, suffer from food allergies, or are allergic to any of the ingredients.
This product contains iron, which, if taken in excess, may be harmful to very young children.
Store below 25°C in a dry place, out of sight and reach of children.
Ingredients
Bulking Agents: Maltodextrin, Microcrystalline Cellulose & Dibasic Calcium Phosphate, Magnesium Oxide, Hi-Grade Marine Collagen (from Fish), Polyvinylpolypyrrolidone, Potato Starch, Vitamin C (Ascorbic Acid [Carrier: Hydroxypropylmethylcellulose]), Silicon Dioxide, Anti-Caking Agents: Stearic Acid & Magnesium Stearate, Tablet Coating (Hydroxypropylmethylcellulose, Propylene Glycol, Talc, Ethyl Cellulose, Natural Source Colours [Titanium Dioxide, Iron Oxides]), Vitamin B12 (Cyanocobalamin), Zinc Sulphate, Polyvinylpyrrolidone, Gum Acacia, Ethyl Cellulose, Alpha Lipoic Acid, Vitamin E (D Alpha Tocopheryl Acid Succinate) (from Soya), Lycopene Extract, Niacin (Nicotinamide), Thiamin (Vitamin B1 as Mononitrate), Natural Mixed Carotenoids (Betacarotene, Gamma-Carotene, Citroxanthin, Beta-Zeacarotene, Modified Starch, Antioxidant: DL-Alpha Tocopherol, Sodium Ascorbate, Corn Starch, Glucose Syrup), Lutein & Zeaxanthin Esters (Carriers: Sugar, Natural Vitamin E, Ascorbyl Palmitate, Gum Acacia, Cellulose, Hydroxypropylmethylcellulose), Ferrous Fumarate, Citrus Bioflavonoids (Carrier: Maltodextrin), Vitamin B6 (Pyridoxine HCl), Grape Seed Extract, Vitamin D3 (Cholecalciferol [Carriers: Medium Chain Triglycerides, Colloidal Silica, Talc, Maltodextrin, BHA & Ethyl Cellulose]), Pantothenic Acid (as Calcium Salt), Vitamin A (Acetate [Carriers: Gum Acacia, Sucrose, Starch, Tricalcium Phosphate, Antioxidant: DL-Alpha Tocopherol]), Manganese Sulphate, Riboflavin, Co-Enzyme Q10, Copper Sulphate, Green Tea Extract, Folic Acid (as Pteroylmonoglutamic Acid), Chromium Trichloride, Sodium Selenate, Potassium Iodide, Biotin.
You may also like