Wellwoman Inner Cleanse Tablets Pack of 30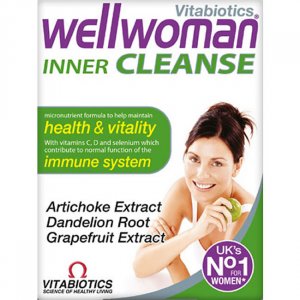 Wellwoman Inner Cleanse Tablets Pack of 30
Description
Wellwoman is an advanced range of women's supplements, specially designed for the specific nutritional needs of modern women.
Wellwoman vitamins for women includes vitamins B6, B12 and iron which contribute to normal energy release and immune system function.
Nutritional support while you 'spring clean' your body
Many nutritionists recommend an occasional cleansing regime to help remove harmful waste products from the body to help promote vitality and wellbeing. Wellwoman Inner Cleanse is a food supplement designed to help support your body during such times and contains 26 bio-active nutrients specially formulated to help safeguard the diet with essential vitamins and minerals.
No-one should believe that they can make up for an unhealthy lifestyle and poor dietary practices simply by going on a 'detox'. However, even those with a healthy diet and lifestyle may wish to cut out certain items all together for a short period, for example caffeine, alcohol and certain fats.
Dietary Safeguard
It is very important during this time to safeguard your dietary intake of important vitamins and minerals. Wellwoman Inner Cleanse advanced formula includes vitamin C, iron and copper which contribute to normal energy release, an important consideration whilst you are on a detoxification diet or exercise regime. Folate, pantothenic acid and vitamin B12 also contribute to the reduction of tiredness and fatigue.
Immune and Digestive Health
The toxins and pollutants to which we are exposed by modern life can leave many people feeling like they need to cleanse or purify their body. Alcohol consumption, everyday pollution and highly processed foods can all take their toll. Wellwoman Inner Cleanse is formulated to help support your body's natural cleansing process. It includes selenium and zinc which contribute to the normal function of the immune system. Artichoke extract contributes to the maintenance of normal liver function and also helps to maintain normal digestion.
Cell Protection
The body can naturally cleanse itself of toxins produced by metabolic processes and environmental pollution. Wellwoman Inner Cleanse includes zinc, manganese and selenium which contribute to the protection of cells from oxidative stress.
Effective Inner Cleansing
Detoxification diets generally last from 3-28 days, depending on their type. The following basic steps are recommended during any cleansing programme:
Eat 5-7 portions of fresh fruit and vegetables per day
Drink 6-8 glasses of water per day
Include daily portions of fibre
Cut out highly processed foods and those high in sugar and refined carbohydrates
Avoid saturated fats
Stop smoking
Cut out alcohol and caffeine
Exercise regularly
Reduce stress
Directions
Two tablets per day with your main meal. Swallow with water or a cold drink. Not to be chewed.
Do not exceed the recommended intake.
This comprehensive formula replaces other Wellwoman supplements and multivitamins. There is no need to take an additional multivitamin.
Warnings
As with other food supplements, seek professional advice if you are under medical supervision, pregnant, breastfeeding, suffer from food allergies, or are allergic to any of the ingredients.
Food supplements must not replace a varied and balanced diet and a healthy lifestyle.
Store below 25°C in a dry place, out of sight and reach of children.
Ingredients
Dibasic Calcium Phosphate, Starch, Silicon dioxide, Polyvinylpyrrolidone, Tablet Coating: [Natural Source Colours (Copper Chlorophyll, Titanium Dioxide), Hydroxypropyl Methyl Cellulose, Polydextrose, Medium Chain Triglycerides, Purified Water], Microcrystalline Cellulose, Polyvinylpolypyrrolidone, Anti-caking Agents: Magnesium silicate, Magnesium stearate, Vitamin C (Ascorbic Acid [Carrier: Hydroxypropylmethylcellulose]), Magnesium Oxide, Pantothenic Acid (Calcium D-Pantothenate), Vitamin B12 (Cyanocobalamin [Carrier: Dicalcium Phosphate]), Vitamin E (D Alpha Tocopheryl Acid Succinate)(from Soya), Zinc Sulphate, Methionine, Niacin (Nicotinamide), N-Acetyl Cysteine, Thiamin (Vitamin B1 Mononitrate), Ferrous Fumarate, Vitamin B6 (as Pyridoxine HCl), Phosphatidylcholine (Carrier: Triglycerides) (from Soya), Manganese Sulphate, Natural Mixed Carotenoids (Betacarotene, Potato Starch, Water, Antioxidants: DL- Alpha Tocopherol Acetate), Dandelion Root Extract, Vitamin A (Vitamin A Acetate, [Carriers: Gum Acacia, Sucrose, Starch, Tricalcium Phosphate], DL-Alpha Tocopherol), Riboflavin (Vitamin B2), Copper Sulphate, Vitamin D3 (Cholecalciferol, Maltodextrin, Medium Chain Triglycerides, Colloidal Anhydrous Silica, Talc, Butylated Hydroxyanisole, Ethyl Cellulose), Artichoke (Concentrated Leaf Extract), Grapefruit (Concentrated Extract), Folic Acid (as Pteroylmonoglutamic Acid), Selenium (Sodium Selenate), Iodine (Potassium Iodide), D-Biotin.
You may also like