Wellwoman Sport & Fitness Tablets Pack of 30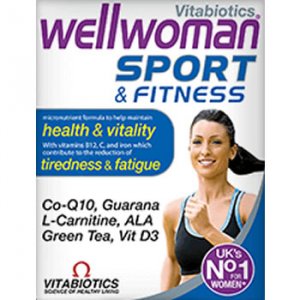 Wellwoman Sport & Fitness Tablets Pack of 30
Description
Wellwoman is an advanced range of women's supplements, specially designed for the specific nutritional needs of modern women.
Wellwoman vitamins for women includes vitamins B6, B12 and iron which contribute to normal energy release and immune system function.
Premium nutritional support for those training in sport
Wellwoman Sport & Fitness contains 29 nutrients, specially selected to help support women who want to excel in sports and fitness, as well as meet the needs of an all round active life. Wellwoman Sport & Fitness forms part of the Wellwoman range, the UK's No 1 supplement brand for women.
Gym, Sport and Fitness
During exercise your body's nutritional demands increase. Each Wellwoman Sport & Fitness tablet contains a balanced combination of important nutrients to help safeguard your dietary intake for your regular gym routine and also helps replace nutrients lost during exercise. It includes vitamin C which helps to maintain normal function of the immune system.
Energy Release
Wellwoman Sport & Fitness contains iron which contributes to normal formation of red blood cells and haemoglobin, plus normal oxygen transport in the body. In addition vitamins C, B6 and B12 contribute to normal energy release and the reduction of tiredness and fatigue.
All-Round Health
Busy lifestyles such as balancing your time between the office and workouts at the gym can leave you feeling in need of some extra support. Wellwoman Sport & Fitness is a comprehensive multivitamin formula, including the benefits of vitamin C & E which contribute to the protection of cells from oxidative stress. Vitamin D, iron and copper contribute to the normal function of the immune system. Also includes 400mcg folic acid which contributes to maternal tissue growth during pregnancy which is important if you're planning a pregnancy or there's a chance you might get pregnant.
Directions
One tablet per day with your main meal.

Swallow with water or a cold drink. Not to be chewed.
Do not exceed the recommended intake.
This comprehensive formula replaces other Wellwoman supplements and multivitamins. There is no need to take an additional multivitamin.
Warnings
As with other food supplements, seek professional advice if you are under medical supervision, pregnant, breastfeeding, suffer from food allergies, or are allergic to any of the ingredients.
As Wellwoman contains vitamin K, if you are taking oral anticoagulants (e.g. warfarin) do not take these tablets except on the advice of a doctor. Vitamin K is not known to specifically interact with the action of aspirin or heparin. This product contains iron, which if taken in excess may be harmful to very young children.
Food supplements must not replace a varied and balanced diet and a healthy lifestyle.
Store below 25°C in a dry place, out of sight and reach of children.
Ingredients
Magnesium Oxide, Bulking Agents: Microcrystalline Cellulose & Potato Starch, Vitamin C (Ascorbic Acid [Carrier: Hydroxypropylmethylcellulose]), Tablet Coating (Ethyl Cellulose, Hydroxypropylmethylcellulose, Propylene Glycol, Hydroxypropylcellulose, Titanium Dioxide, Iron Oxide Red), L-Carnitine Tartrate, Polyvinylpolypyrrolidone, Niacin (as Nicotinamide), Ferrous Fumarate, Zinc Sulphate, L-Methionine, N-Acetyl Cysteine, Vitamin E (D Alpha Tocopheryl Acid Succinate) (from Soya), Alpha Lipoic Acid, Guarana Extract, Thiamin (Vitamin B1 Mononitrate), Citrus Bioflavonoids, Anti-caking Agents: Stearic Acid, Silicon Dioxide & Purified Talc, Vitamin B6 (Pyridoxine HCl), Natural Mixed Carotenoids (Betacarotene, Gamma-Carotene, Citroxanthin, Beta-Zeacarotene, Modified Starch, Corn Starch, Glucose Syrup, Antioxidants: DL-Alpha Tocopherol, Sodium Ascorbate), Pantothenic Acid (as Calcium Salt), Vitamin D3 (Cholecalciferol [Carriers: Maltodextrin, Medium Chain Triglycerides, Colloidal Anhydrous Silica, Purified Talc, Butylated Hydroxyanisole, Ethyl Cellulose]), Manganese Sulphate, Vitamin B12 (Cyanocobalamin [Carrier: Di-Calcium Phosphate]), Riboflavin, Green Tea Extract, Magnesium Stearate, Copper Sulphate, Vitamin K1 (Carriers: Acacia Gum, Glucose Syrup, Tricalcium phosphate), Co-Enzyme Q10, Folic Acid (as Pteroylmonoglutamic Acid), Chromium Trichloride, Sodium Selenate, Potassium Iodide, Biotin.
You may also like