Due to an unusually high number of orders being received dispatch times may be longer than stated. Please allow up to 7 working days for dispatch.
XLS Hunger Buddy Capsules Pack of 40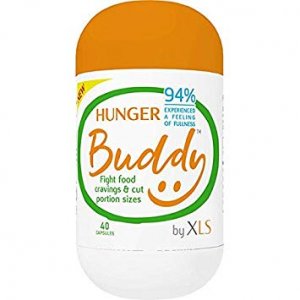 XLS Hunger Buddy Capsules Pack of 40
£13.99 Save: £1.00 RRP: £14.99
Brand: XLS
Code: 4031431
Weight: 50g (includes packaging)
Description

Hunger is the consistent key factor for people who struggle to lose weight. It is hard to complete a diet plan when you do not feel full after having a meal. Hunger Buddy is an effective product for management of appetite, food cravings and compulsive eating habits. It is designed to rescue you from hunger pangs and snack attacks. It contains the Redusure™ formula, a unique fiber complex that reduces appetite and provides you with a pleasant feeling of fullness. Hunger Buddy is clinically proven to promote significant weight loss through reduced food intake. It is particularly suitable for those who constantly have a big appetite and cannot control portion size.

Helps to fight food cravings and snack attacks
Helps to cut portion sizes
Promotes satiety while being gentle on the system
Comes in a handy and easy to use push dispenser
Directions

To reduce portion sizes and avoid snack attacks, it is recommend you to take two capsules of Hunger Buddy with a full glass of water 30 minutes before main meals, and if needed 1 or 2 in between meals.

It is recommend you to drink enough liquid throughout the day (2 Litres).

Do not exceed 9 capsules daily and do not combine Hunger Buddy by XLS-Medical with other appetite reducing products.

Hunger Buddy by XLS-Medical is not a meal replacement and should be taken in combination of a healthy and balance diet.

Hunger Buddy's dispenser makes it easy to use on the go.
Warnings

Do not take XLS Hunger Buddy Capsules during pregnancy or whilst breastfeeding, or if your BMI (Body Mass Index) is below 18.5.

NOTE: BMI guides may not be accurate for individuals with a high muscle mass or pregnant women and shouldn't be used for under 16s.

Keep out of the sight and reach of children.

Use within 14 days after opening.

Hunger Buddy must be taken as a whole capsule with a full glass of water (approximately 250ml). Do not open the capsule and avoid taking it in powder form to avoid choking.

Please consult your healthcare professional before taking Hunger Buddy if:

you are diabetic, as Hunger Buddy may flatten plasma glucose levels that consequently reduce insulin secretion. Diabetic patients may have to adjust their daily anti-diabetic treatment to avoid hypoglycaemic attacks If you are taking any cholesterol-lowering medication
you are taking any Angiotensin-converting enzyme (ACE) inhibitors, Angiotensin receptor blockers (ARBs), potassium-sparing diuretics
you have renal function impairment, as this product contains a source of potassium
you are on a low iodine diet, as this product contains trace amount of iodine
any medical condition exists.

It is recommended to take other medications at least one hour before, or four hours after taking Hunger Buddy.

Adjust dosage with reference to a healthcare professional. The incidence of adverse side effects being reported was very rare (<0.01%). These hypersensitivity reactions were typical of food allergies, like rash, itching, slight swelling and mild gastrointestinal upset. In such cases, treatment should be discontinued. For beneficial action of fibres on gastrointestinal transit, it is recommended to drink at least 2 Litres of water a day. Slight constipation could occur in case of limited liquid intake. If constipation persists despite adequate fluid intake, please consult your healthcare professional.

Don't take this product if you are allergic to sulphur-containing products (such as sulfites) or any of the ingredients listed. If you experience any allergic symptoms, such as skin rashes or difficulty in breathing or any other side effects, please consult your doctor immediately.
Ingredients

Active Ingredient: Each capsule contains Redusure™, a proprietary blend of high-swelling capacity dietary fibres.

Also contains: Potassium Bicarbonate, Microcrystalline Cellulose, Magnesium Stearate.
You may also like