Spring Bank Holiday and Platinum Jubilee Online Customer Service Opening Times:
Thursday 2nd June: 9am - 12noon
Friday 3rd June: Closed
Salicylic Acid - Everything You Need To Know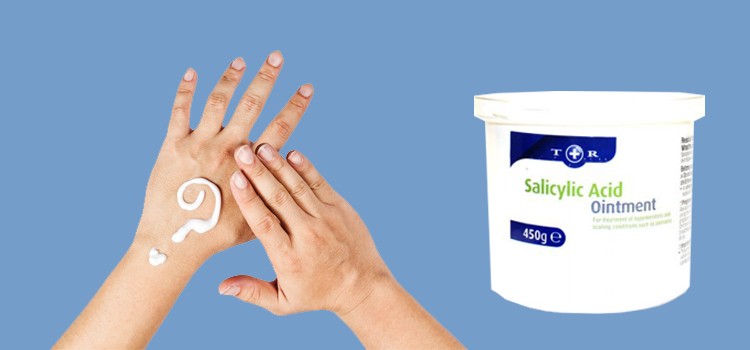 Published: 24th February, 2019 in: Health Health Advice Skin Conditions
What is Salicylic Acid Ointment?
Salicylic Acid Ointment is used for the treatment of scaly or dry skin conditions such as psoriasis and ichthyoses, in which there is an overgrowth of skin cells and the skin becomes scaly. It can also be used to help clear and prevent spots and blemishes in people who have acne, as well as dandruff, corns, calluses, and warts on the hands or feet. Salicylic Acid is in a class of medicines called Keratolytic Agents which act by causing the outer layer of skin to loosen and shed. Topical application of Salicylic Acid Ointment treats acne by reducing swelling and redness, and unblocking blocked skin pores to allow spots to shrink. It treats other skin conditions by softening and loosening dry, scaly, or thickened skin so that it falls off or removed easily.
How to use Salicylic Acid Ointment
Topically apply this product to the skin ensuring you avoid contact with broken or inflamed skin. For adults, the elderly, and children, you should apply this product to the affected area twice a day, unless otherwise directed by a doctor. Avoid applying other medicines to the same area of skin at the same time.
What to avoid
Ask your doctor or pharmacist for advice before using this medicine if you are pregnant, might be pregnant, or are breastfeeding. Salicylic Acid Ointment should not be used in pregnancy or breastfeeding unless a doctor has told you to do so.
Do not use this medicine if you or your child have an allergy to any of the ingredients in this product, these can be on the product itself or on the individual product page on our site. Be especially aware if you have an allergy to salicylates.
This product contains wool alcohols (lanolin) which may cause local skin reactions.
For external use only. If you accidentally swallow some product, see a doctor straight away.
Be careful you do not get this product in your eyes, nose, or mouth. If you do, then flush the area with water for 15 minutes