Due to an unusually high number of orders being received dispatch times may be longer than stated. Please allow up to 10 working days for dispatch.

We are also experiencing a high volume of calls. Please use our contact us page to leave a message and we will get back to you as soon as possible.
Ametop Dispensing Pack (Fridge line) Refrigerated Item -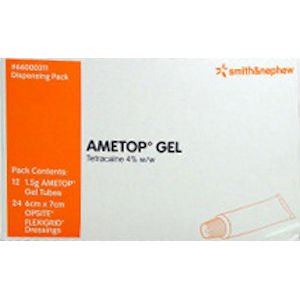 Ametop Dispensing Pack (Fridge line) Refrigerated Item -
£28.90 Save: £2.43 RRP: £31.33
Brand: Ametop
Code: 2375350
Weight: 150g (includes packaging)
Description
Ametop Gel 4% 1.5g is a local anaesthetic that contains 4% w/w of tetracaine and is formulated to numb your skin, to relieve the pain of injections.
Ametop 40mg/g Gel 1.5g is a local anesthetic that helps take the "sting" out of injections. It's a unique gel that will relieve any pain or irritation that your skin may feel after injections. Ametop 40mg/g Gel 1.5g is suitable for pain caused by injections or by taking blood samples.It should not be used by pregnant or breastfeeding women and babies. Epileptic patients should take special care. The gel should not be applied to wounds, broken skin, on the lips, mouth, tongue, eyes, ears, anal, or genital area
Contains:
12 x 1.5g Ametop Gel Tubes
24 x 6cm x 7cm Opsite Flexigrid Dressings
Directions
Apply to affected area for instant pain relief.
Warnings
You should carefully read all product packaging and labels prior to use.
When you order this item it is subject to review and approval by one of our pharmacists. Our pharmacists may remove an item from your order if they feel it isn't suitable for you, or in order to comply with UK legislation.
Do not use Ametop Gel on: Wounds, Broken skin, Lips, mouth, or tongue, Eyes or ears, Anal and genitai region, Mucous membranes.
The shelf-life shall not exceed 24 months from date of manufacture.
Within the recommended shelf life of 2 years the product may be stored for up to 1 month at 25°C. If it is to be stored for any longer than 1 month then it must be stored at a temperature between 2 and 8°C.
Ingredients
4% w/w of tetracaine, purified water, sodium chloride, potassium phosphate, xanthan gum (E415), sodium hydroxide and sodium methyl and propyl-p-hydroxybenzoates (E217 & E219).
You may also like