Due to an unusually high number of orders being received dispatch times may be longer than stated. Please allow up to 10 working days for dispatch.

We are also experiencing a high volume of calls. Please use our contact us page to leave a message and we will get back to you as soon as possible.
Aptamil Lactose Free 400g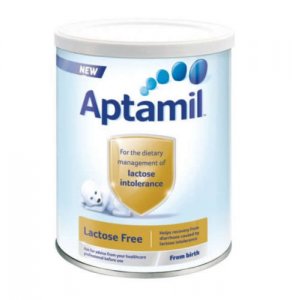 Aptamil Lactose Free 400g
£6.29
Brand: Milupa
Code: 3867439
Weight: 500g (includes packaging)
Description
Aptamil lactose Free is specially formulated for infants with lactose or sucrose intolerance or those suffering from diarrhoea, bloating or wind, caused by temporary lactose intolerance.
It is a nutritionally complete formula. You can use it to feed your baby as a sole source of nutrition from birth and as part of a weaning diet from 6 months to 1 year.
Directions
Make up each feed as required.
For hygiene reasons, do not store made up feeds and always discard unfinished feeds within 2 hours. If necessary offer cooled boiled water between feeds. Do not heat in a microwave, hot spots may occur and cause scalding. Never add extra scoops or anything else to your baby's feed. Never leave your baby alone whilst feeding.

Preparing your baby's feed:
Because powdered milks are not sterile, failure to follow instructions, may make your baby ill.

1. Wash hands and sterilise all utensils according to manufacturers' instructions.
2. Boil 1 litre of fresh water. Leave kettle to cool for no longer than 30 minutes. Measure the required amount of water into a sterilised bottle. Be careful of scalding. Do not use artificially softened or repeatedly boiled water.
3. Using the scoop provided level off the powder with a clean knife. Do not press/heap the powder.
4. Add the correct measure of powder to the water. Adding too many or too few scoops can be harmful. Cap the bottle and shake vigorously for 25 seconds to dissolve the powder. Remove the cap and replace with sterilised teat.
5. Cool under running tap. Check temperature of feed. Feed immediately.
Warnings
Aptamil Lactose Free is a food for special medical purposes. It should only be used under medical supervision, after full consideration of the feeding options available including breastfeeding. Suitable for use as the sole source of nutrition for infants from birth and as part of a balanced diet from 6-12 months. Not suitable for parental use. This formula is not suitable for infants who are allergic to cows' milk protein allergy.
Ingredients
Glucose syrup, Vegetable oils (palm oil, rapeseed oil, coconut oil, sunflower oil, single cell oil), Caseinate (from milk), Sodium citrate, Potassium citrate, Calcium phosphate, Magnesium chloride, Potassium hydrogen phosphate, Potassium chloride, Calcium carbonate, Fish oil, Emulsifier (soy lecithin), L-cysteine hydrochloride, Choline chloride, Vitamin C, Taurine, L-tryptophan, Inositol, Ferrous sulphate, Vitamin E, Zinc sulphate, Uridine 5' -monophosphate sodium salt, Cytidine 5' -monophosphate, L-carnitine, Adenosine 5' -monophosphate, Inosine 5'-monophosphate sodium salt, Nicotinamide, Pantothenic acid, Guanosine 5' -monophosphate sodium salt, Biotin, Vitamin A, Copper sulphate, Folic acid, Riboflavin, Manganese sulphate, Vitamin B12, Thiamin, Vitamin D3, Vitamin B6, Potassium iodide, Vitamin K1, Sodium selenite.
You may also like