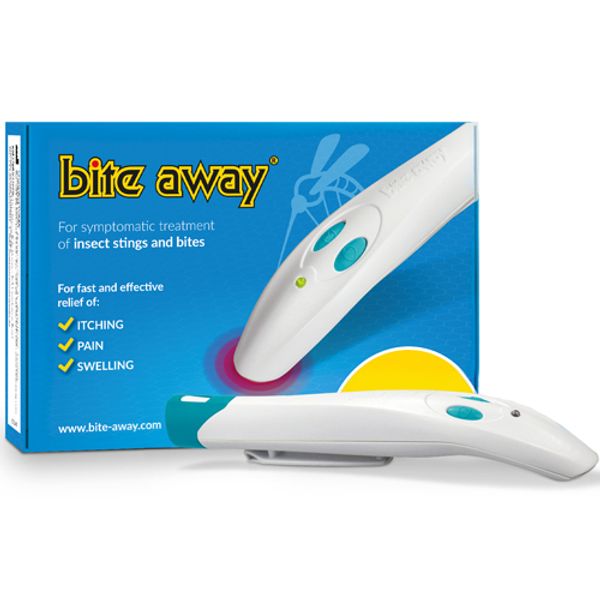 Biteaway Insect Sting and Bite Relief Pen
This product is typically dispatched within 1-3 working days from date of order when using our standard delivery or 48 Hour Tracked and Signed service.
Description

Biteaway works solely through concentrated heat and is thus completely free of chemical ingredients. Biteaway is also suitable for pregnant women, allergy sufferers and children (can be self-administered by children aged 12 or over).

The application of concentrated heat (local hyperthermia) is a highly promising physical mode of action based on short, concentrated application of heat to a small area of skin. Even the application of heat to a small area can be enough to trigger a response from the body that reduces pain and itching.

If the device is applied immediately after the bite/sting, the symptoms can often be prevented altogether, so the affected site on the body should be treated as quickly as possible. Even if the device is used slightly later, the symptoms can fade away faster.
Directions

Place the Biteaway unit with the ceramic contact area directly on the sting or bite (in the event of a bee sting: remove the stinger) and press it on slightly. Then choose one of the two treatment times:

3 seconds (left-hand button) for the initial treatment and for more sensitive persons
6 seconds (right-hand button) for a regular application

When either button is pressed, the ceramic contact area will heat up to a temperature of approx. 51oC. once this temperature has been reached, an LED will light up. It will then go out when the device switches off automatically after the selected application duration. At the start of the heating phase and also at the end of the treatment, an additional acoustic signal will also sound. The device can be used multiple times if required; however always leave a minimum gap of 10 seconds between each application. the device can be cleaned using standard, commercially available alcohol-based disinfection wipes. Do not clean under water.
Warnings

Always leave a minimum gap of 10 seconds between treatments.

Do not use on the eyes or mucous membranes.

Do not use on damaged and/or inflamed skin.

Some people are more temperature sensitive and therefore may perceive the treatment temperature as uncomfortable.

A temporary reddening of the skin may occur on people with sensitive skin. In rare cases, skin irritations may occur in users with a sensitive skin type.

The device can only be self-administered by children aged 12 or over.

When using this treatment, do not apply topical ointments, creams or gels at the same time.

When the battery needs to be replaced, the LED will flash 3 times and the acoustic signal will sound 3 times.

In the event of a malfunction, an acoustic signal will sound 5 times.

Do not use the unit if it is damaged or clearly malfunctioning.
You may also like