Care Lavender Spike Oil 10ml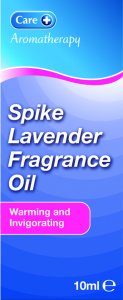 Care Lavender Spike Oil 10ml
£2.29
Brand: Care
Code: 1047927
Weight: 11g (includes packaging)
Description
Lavender Spike Essential Oil. This particular lavender is often used in room sprays, due to its reasonable cost. Used to repel lice in animals. It relaxes and soothes the mind & body. Can be used neat on wounds & burns but care should still be taken. Blends happily with many other oils. Number 1 for use in first aid kit at home. Can be used as a massage, in vapouriser, bath preparations, and on pillow. Lavender has an abundance of uses: Insect repellent, scents linen and deters moths. Dandruff, PMT. Neutralises insect bites and stings (bees, wasps, mosquitoes and nettle rash
Directions
Applications

Inhalation: Add 3-5 drops onto a tissue and inhale or inhale directly from bottle.
Diffuser: Add 5-7 drops onto a diffuser to fill the air with the therapeutic aroma.
Massage Lotion: Adult use: Add 5-7 drops to a ½ oz. carrier oil or an unscented all natural lotion.
Body Lotion: Add 5-7 drops to a ½ oz. of unscented all natural lotion and apply to your body as desired.
Bath: Add 5-7 drops to a ½ oz. of whole milk or liquid soap and pour into running bath.
Shower: Add 5-7 drops to a ½ oz. carrier oil, rub all over your body, add 3-5 drops of your favorite oil to the shower floor, turn on the water and enjoy a warm therapeutic aromatic experience.
Compress: Add 5-7 drops into a small bowl of warm or cold water, agitate well, soak cloth with water, squeeze excess water and apply to affected area. (Temperature of water is dependent on desired result)
Warnings
Cautions: Keep out of reach of children. Avoid eyes and other sensitive areas. Essential oils are volatile and highly flammable.Keep away from direct flame. If pregnant or nursing, consult a physician before using. For external use only; DO NOT use undiluted. Store at room temperature and avoid sunlight.
You may also like