Carr & Day & Martin Liniment 500ml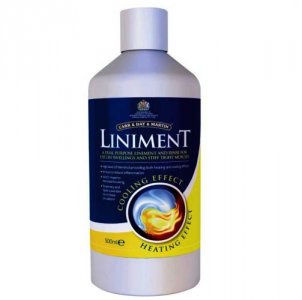 Carr & Day & Martin Liniment 500ml
Description
Liniment is a dual purpose liniment and rinse for use on swellings and stiff, tight muscles.
Directions
Dilute with warm or cold water for use as a cooling or soothing rinse.
Use neat as a soothing liniment on swollen or stiff muscles.
To use as a brace apply liniment and bandage loosely.
Warnings
For external use only.
Avoid contact with eyes.
If contact does occur, rinse immediately with water.
If skin irritation occurs, discontinue use. If irritation persists, consult a doctor. In case of accidental ingestion, seek medical assistance.
Ingredients
Menthol, Witch Hazel, Arnica, Spike lavender, rosemary.
You may also like