Colgate Sensitive Pro Relief Mouthrinse 400ml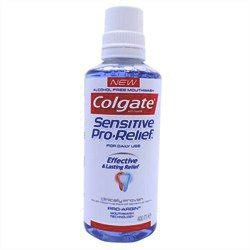 Colgate Sensitive Pro Relief Mouthrinse 400ml
Description
Colgate sensitive Pro-Relief mouthwash works by coating the channels that lead to sensitive tooth nerves, to block the pain. With regular use, it builds a long lasting protective barrier that acts like a seal against sensitivity and provides effective and long lasting relief. Unique soft mint flavour for minty fresh breath.
Directions
Use 20ml of mouthwash. Rinse for 30 seconds. Do not swallow. Use twice a day- morning and evening. Rinse cap after use. Recommended to use after brushing with Colgate Sensitive Pro-Relief toothpaste and gentle tooth brush Sensitive teeth may indicate and underlying problem that may need prompt care by a dentist if pain persists.
Warnings
Keep out of reach of children. Not recommended for children under the age of 6.
Ingredients
Arginine 0.8%, Other Ingredients: Aqua, Glycerin, Sorbitol, Propylene Glycol, Tetrapotassium Pyrophosphate, PEG-40 Hydrogenated Castor Oil, PVM/MA Copolymer, Polysorbate 20, Tetrasodium Pyrophosphate, Aroma, Benzyl Alcohol, Sodium Fluoride (225 ppm F¯), Menthol, Sodium Saccharin, Citric Acid, Methylisothiazolinone, CI 42051, CI 17200, This product does not contain Ethyl Alcohol
You may also like