Cow & Gate Growing Up 2-3 Years Milk Powder 800g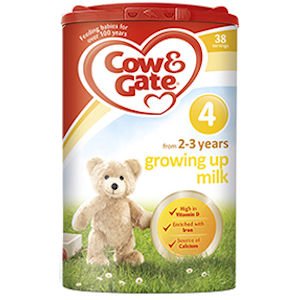 Cow & Gate Growing Up 2-3 Years Milk Powder 800g
£8.39 Save: £0.50 RRP: £8.89
This product is limited to 2 per order, if you wish to order more please contact the pharmacy team/customer services.
This product is typically dispatched within 3-5 working days from date of order and is not suitable for our next day delivery service.
Brand: Nutricia
Code: 3645967
Weight: 1000g (includes packaging)
Description
Whether your toddler is tearing around the park or getting creative with crayons, it's a joy to see their personality shining through. Their nutritional needs are important, which is why we've made a Growing Up Milk that is enriched with key nutrients to support your toddler as part of a varied balanced diet.
Enriched with vitamin D, calcium, and iron, Cow & Gate Growing Up Milk 4 (for toddlers aged 2-3 years) is nutritionally tailored to keep up with your get-up-and-go toddler's changing needs, as part of a balanced diet - from their second birthday.
If your little one is eating and drinking well, the Department of Health recommends that they can switch from full-fat to semi-skimmed once they turn two. Our Growing Up Milk 4 is a semi-skimmed version, enriched with key nutrients for growing toddlers as part of a varied balanced diet.
vitamin D and calcium - for normal bone development
iron - to support normal cognitive development
The EaZypacks are easy to open and use with one hand. They contain a measuring scoop and powder leveller inside, providing everything you need in one place.
Directions
From 2-3 years, your toddler will need about 2 x 150ml beakers of growing up milk per day. We recommend one beaker in the morning and one at night. Always use the scoop provided, please note the colour of the scoop may change from time to time.
Because powdered milks are not sterile, failure to follow instructions may make your toddler ill.
Warnings
For hygiene reasons do not store made up milk drinks. Make up each drink as required, and discard unfinished drinks within 2 hours.
Do not heat in a microwave, hot spots may occur and cause scalding.
Do not leave your toddler alone whilst eating and drinking.
Storage – use powder within 4 weeks of opening and store in a cool dry place – do not refrigerate.
Ingredients
Skimmed milk, Lactose (from milk), Vegetable oils (Palm oil, Sunflower oil, Rapeseed oil), Whey product (Demineralised whey, Whey protein concentrate) (from milk), Galacto-oligosaccharides (GOS) (from milk), Maltodextrin, Calcium phosphate, Fructooligosaccharides (FOS), Potassium hydrogen phosphate, Calcium carbonate, Magnesium citrate, Milk flavouring, Vitamin C, Magnesium hydrogen phosphate, Potassium citrate, Sodium chloride, Emulsifier (soy lecithin), Iron sulphate, Zinc sulphate, Vitamin E, Vitamin D3, Potassium chloride, Pantothenic acid, Vitamin B12, Vitamin A, Niacin, Riboflavin, Folic acid, Vitamin K1, Biotin, Vitamin B6, Thiamin, Potassium iodide.
You may also like