Fade Out Extra Care Brightening Day Cream SPF 25 50ml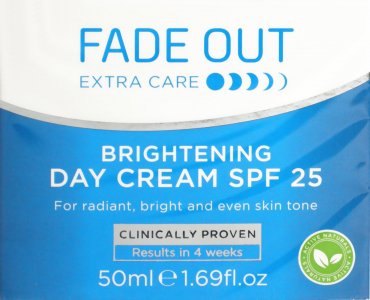 Fade Out Extra Care Brightening Day Cream SPF 25 50ml
Description
Fade Out White Protecting Day Cream SPF15 is clinically proven to work in 4 ways:
Prevention:
Penetrates deep into the skin's outer layers, preventing the melanin from reaching the upper layers of the skin - skin appears lighter.
Protection:
Specially formulated with SPF15. Skin is protected from both the ageing and darkening effects of the sun - skin looks younger.
Correction:
Targets problem areas of hyper-pigmentation, skin discolouration, age spots and sunspots, so that dark areas fade.
Future Defence:
Enhances the cell renewal process, slowing down the formation of further dark spots - skin remains lighter.
Directions
Rub Fade Out White Protecting Day Cream all over your face after cleansing your skin in the morning.
Warnings
Avoid contact with eyes.
For external use only.
Ingredients
Aqua (Water), Ethylhexyl Methoxycinnamate, Sodium Lactate, Homosalate, Lactic Acid, Cetearyl Alcohol, Glyceryl Stearate, PEG-100 Stearate, Dimethicone, Glycerin, Stearyl Alcohol, Hexylene Glycol, Niacinamide, Titanium Dioxide, Ceteareth 20, Phenoxyethanol, Parfum (Fragrance), Sodium Saccharin, Alumina, Ethylhexylglycerin, Glycyrrhiza Glabra (Licorice) Root Extract, Morus Nigra Leaf Extract, Disodium EDTA, Simethicone, Glyceryl Oleate, Ascorbyl Palmitate, Tocopherol, Citric Acid.
You may also like