Fastaid Advanced Heat Pad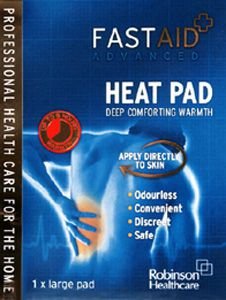 Fastaid Advanced Heat Pad
£1.29 Save: £0.70 RRP: £1.99
Brand: Fastaid
Code: 0026682
Weight: 40g (includes packaging)
Description
Fast Aid Heat Pads are thin enough to wear discreetly under clothes and can be applied directly to the skin or, if preferred, onto under garments. The pads are odour free, with none of the associated unpleasant smells of topical soothing creams and gels. Unopened pouches can be carried in the pocket or a handbag and used when required. Fast Aid Advanced Heat Pads are supplied in professional blue and gold packs, designed for use by all the family.
Safe, natural, soothing – non-medicinal, drug free solution
Convenient and easy to use, simply open pack and apply to affected area
Instant warmth that lasts for up to 8 hours
Discreet and conformable, for wearing at any time
Hypoallergenic adhesive allows pad to be worn directly on skin
Directions
Using Fast Aid Heat Pads is simple and easy and does not require a microwave, boiling water or the breaking of a widget in order to activate the release of heat. Each pad is simply removed from its sealed pouch, the film backing peeled off the adhesive layer and then placed on the affected area. Upon contact with air the pad instantly starts to get warm and begins to provide comfort.
Warnings
For external use only. Do not apply to injured, broken or irritated skin. Discontinue use if rash develops. Consult your doctor before use with young children and persons with circulatory or dermatological conditions. Do not cut or tear the pad. Remove pad if it becomes too hot. For overnight use do not lie directly on the pad.
Ingredients
There are no ingredients listed for this product.
You may also like