Fybogel Mebeverine Sachets Pack of 10 x 2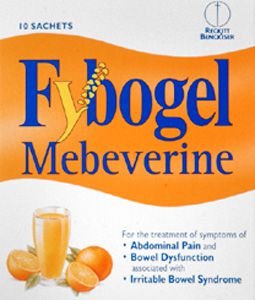 2 PACKS
Fybogel Mebeverine Sachets Pack of 10 x 2
£6.69 Save: £0.90 RRP: £7.59
This product is typically dispatched within 3-5 working days from date of order and is not suitable for our next day delivery service.
Brand: Fybogel
Code: 0282608
Weight: 175g (includes packaging)
Description
Fybogel Mebeverine is to relieve the symptoms of irritable bowel syndrome. If you have irritable bowel syndrome, you are likely to suffer from painful spasms of the gut and irregular bowel habits.

Fybogel Mebeverine is a combination of active ingredients which are effective in relaxing the spasm of the gut, relieving pain. At the same time Fybogel Mebeverine will help you to restore and maintain bowel regularity.

The ispaghula husk contained in Fybogel Mebeverine is a natural plant material which is high in fibre. It works by increasing the bulk of the contents of the gut passing through the digestive system, helping your body to work normally. Mebeverine is an antispasmodic drug which relieves spasms and cramps which occur in the gut, causing pain.
Directions
Adults and children over 12:
Take one sachet of Fybogel Mebeverine half an hour before meals one sachet in the morning and one in the evening, or as prescribed by your doctor. An additional sachet may be taken before the midday meal if necessary.

Fybogel Mebeverine must be taken with an adequate amount of liquid, as directed.

Not recommended for children under 12.
Warnings
As with all medicines, Fybogel Mebeverine may not be suitable for some people. Do not take Fybogel Mebeverine if :
your doctor has told you that you are suffering from a blockage of the bowel (intestinal obstruction or faecal impaction) or muscle weakness of the bowel wall (colonic atony).
you have hypersensitivity to any of the ingredients.
you have been told by your doctor that you have phenylketonuria, because the product is sweetened with aspartame E951, which contains a source of phenylalanine.
Do not use it until you have seen a doctor if you:
are aged 40 years or over
have passed blood from the bowel
are feeling sick or vomiting
have lost your appetite or have lost weight
are looking pale and feeling tired
are suffering from severe constipation
have a fever
have recently traveled abroad
are, or may be, pregnant
have abnormal vaginal bleeding or discharge
have difficulty or pain passing urine
have been prescribed diuretic medicine
are on a controlled sodium diet, as each sachet contains 2.73 mmol of sodium
are on a controlled potassium diet, or have reduced kidney function, as each sachet contains 2.50 mmol of potassium
Fybogel Mebeverine must be taken with an adequate amount of liquid, as directed. Blockage of the gut may occur if the granules are not prepared with enough liquid.

Side- effects: You may experience flatulence or bloating for the first few days after starting this medicine, but these effects should lessen as you continue treatment.
Ingredients
Ispaghula husk, mebeverine hydrochloride, potassium hydrogen carbonate,sodium hydrogen carbonate, microcrystalline cellulose, eudragit, sterilised talc, macrogol, citric acid, polysorbate 80, silica colloidal anhydrous, saccharin sodium, aspartame E951, orange flavour and beta-carotene, riboflavine sodium phosphate and apo-carotenal colouring.
You may also like