Gillette Venus Razor For Women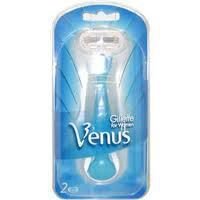 Gillette Venus Razor For Women
£6.49
This product is typically dispatched within 3-5 working days from date of order and is not suitable for our next day delivery service.
Brand: Gillette
Code: 2759884
Weight: 175g (includes packaging)
Description
Gillette Venus Women's Razor works in just one stroke to provide an incredibly close, comfortable shave. This hair removal product has three blades, surrounded by soft protective cushions that smooth out the skin for a closer cut. This shaver has one razor and two cartridges, as well as a shower system that makes storage convenient. The pivoting rounded head works easily on hard to shave areas and small hairs, to give you beautiful, silky smooth legs and underarms. It has an Aloe and Vitamin E strip, which acts as an indicator for when you need to replace the blade cartridge: the blue strip fades over time, so you know when you are no longer getting the optimal shave. Designed to give women a comfortable and relaxing shaving experience, Gillette Venus Women's Razor provides silky smoothness on your skin, effectively removing unwanted hair for shiny, strokeably soft legs and underarms.
3 blades surrounded by soft, protective cushions
Pivoting, uniquely rounded head hugs curves
Blue indicator strip with aloe and vitamin E
Individually sealed to be stored in the shower
Directions
The trick to shaving is to wet your skin and let it soften from the heat and moisture. You don't want to shave dry skin. Shaving is a natural exfoliator and if you try to dry shave, you run the risk of clogging up the razor with dead skin while putting yourself at risk for nicks and razor burn.
You may need to experiment with different brands of razors to find the perfect one for you.
Be sure to change razors or cartridges on a regular basis; a dull blade can lead to nicks.
Be sure to exfoliate your skin before shaving. It gets rid of all the dead skin cells that could clog up your razor, preventing a close shave. There are several ways to exfoliate. You can use exfoliating gloves or a cloth in the shower or dry brush before you shower (never get a wooden brush wet, it will mildew fast).
Since your leg hairs grow down, you'll want to start at your ankles and shave up.
For your underarms, you'll need to shave in every direction since the hair there grows in at many different angles.
When finished shaving, apply oil or moisturiser. The skin on your legs has few oil glands and has a tendency for dryness.
Ingrown hairs are caused when the hairs curl back under the skin. Avoid ingrown hairs by exfoliating daily and using a glycolic acid cleanser on affected areas.
Warnings
Age Restriction
You must be at least 16 years old to purchase this product.
Ingredients
There are no ingredients listed for this product.
You may also like