Lil-Lets Super Plus Extra Tampons Pack of 14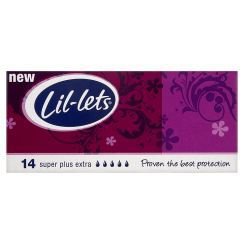 Lil-Lets Super Plus Extra Tampons Pack of 14
Description
- Great looking packs for your bathroom
- Lil-lets are discreet to use and carry around
- The soft cover and rounded tip means they're easy to insert
- Because there's no applicator, there's less to dispose of
Lil-lets super plus extra 14 pack of non-applicator tampons are comfortable protection for when your flow is very heavy. Lil-lets tampons gently expand widthways to fit your natural shape for total comfort and confidence.
Your flow changes throughout your period and it's important to always use the correct absorbency for your flow. The core of each tampon is now stronger making it easier and more comfortable to insert. Lil-lets non-applicator tampons still expand widthways for our best protection.
Directions
Always use the lowest absorbency for your flow.
Change your tampon every 4 to 8 hours or more often if needed.
Always remember to remove your last tampon.
Warnings
Tampons are associated with Toxic Shock Syndrome (TSS).
This is a rare but serious illness that may be fatal.
Please read and save the leaflet enclosed in this pack.
Ingredients
There are no ingredients listed for this product.
You may also like