Magnesium Hydroxide Mixture 500ml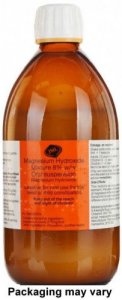 Magnesium Hydroxide Mixture 500ml
£7.49
Brand: Thornton & Ross
Code: 1021658
Weight: 780g (includes packaging)
Description
Magnesium hydroxide has two main actions in the gut. It has an antacid action and in higher doses a laxative action.
Magnesium hydroxide binds to excess acid produced by the stomach. This neutralises the acid and decreases the acidity of the stomach contents, thereby relieving indigestion, heartburn and wind. Magnesium hydroxide is often found in indigestion remedies.
Magnesium hydroxide can also be used short-term for the treatment of constipation. It works by causing water to be drawn into the lower bowel. This increases the water content and volume of the stools, making them softer and easier to pass.
Directions
Shake the bottle
Adults, the elderly and children over 12 years:
As an antacid:
Take 1 or 2 x 5ml spoonfuls with a little water when required.
As a laxative:
Take 5 to 10 x 5ml spoonfuls (25 - 50ml) in a glass of water at bedtime.
Warnings
DO NOT GIVE TO CHILDREN UNDER 12 YEARS OLD.
Do not use the medicine if you have:
An allergy to any of the ingredients.
Severe kidney failure.
A severe stomach or bowel condition.
Or give to children under 12 years old.
Ingredients
Magnesium Hydroxide paste concentrated 1.325g, Chloroform and purified water.
You may also like