Mandanol Paracetamol Caplets Pack of 32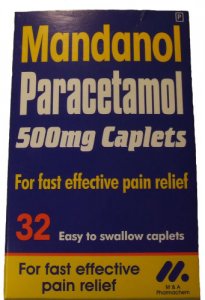 Mandanol Paracetamol Caplets Pack of 32
£0.59 Save: £0.32 RRP: £0.91
2 sold in the last hour!
Paracetamol products are limited to a total of 100 tablets/capsules per order.
This product is typically dispatched within 1-3 working days from date of order when using our standard delivery or 48 Hour Tracked and Signed service.
Brand: Mandanol
Code: 2807204
Weight: 30g (includes packaging)
Description
Paracetamol 500mg tablets/caplets - Since Paracetamol was invented, many lives have been saved due to its effective ability to reduce often the most severe temperature. Most of us use this handy drug for all kinds of ailments, however many people are unaware of the way it works. It is potentially a dangerous drug if used inappropriately, such as using it for long periods of time, or if it is taken in quantities larger than the recommended dose.
Paracetamol is a pain killer that is used for many conditions related to pain and fever, and should be only used for short-term relief.
Paracetamol tablets provide effective relief of mild to moderate pain and is safe and effective when taken as directed on the label.
Directions
Directions for taking Paracetamol 500mg tablets/caplets:
Adults and children 12 years and over: Take1-2 tablets with water every 4-6 hours. (Maximum of 8 tablets in 24 hours).
Children 7-12 years old: ½ - 1 tablet with water every 4-6 hours. (Maximum of 4 tablets in 24 hours).
Not recommended for children under 7 years of age.
Do not take Paracetamol for longer than 48 hours at a time unless advised to by a doctor.
Warnings
Caution before taking Paracetamol 500mg Tablets/ Caplets:
Do not give to children under 6 years.
Four hours must elapse between each dose and not more than 4 doses must be taken in 24 hours.
Do not exceed the stated dose: 8 tablets/caplets for adults (age 12 ); 4 tablets/caplets for children (age 7 - 12) in 24 hours.
If symptoms persist consult your doctor.
Keep out of the reach of children.
Medicines should not be taken during pregnancy without consulting your doctor.
Do not take with any other paracetamol containing medicines
Ingredients
Each tablet/caplet contains: 500mg Paracetamol.
You may also like