Multi Mam Instant Nipple Compresses Pack of 12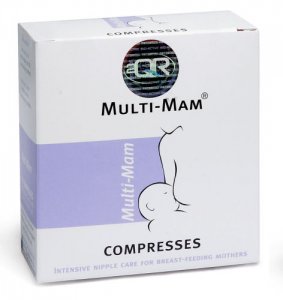 Multi Mam Instant Nipple Compresses Pack of 12
Description
The double-sided compress has one side impregnated with Bio-Active gel to soothe pain, reduce swelling and prevent infections.
The compress creates an optimal skin condition, supports the natural healing process and stimulates the repair mechanism of damaged nipples.
The laminated side also helps avoid leakage from the breast and staining of clothes.
2QR has been found effective against a variety of harmful skin bacteria such as Staphylococcus Aureus, Beta Hemolitical Streptococcus Agalactiae, Escherichia Coli and Listeria Monocytogenes. These bacteria can develop in the nipple and areola area and be transmitted to the baby through breastfeeding.
Multi Mam Compresses:
Blocks the development of harmful microorganisms
Prevents infection
Supports the natural healing process
Has an instant soothing effect on sore nipples
Gives immediate comfort and relief
Gel is natural and harmless when swallowed
Optimizes skin condition
Unique application
Preservative free!
Directions
Open the sachet.
Place the impregnated side on the nipple.
Leave the compress in place as long as direct but for at least 5 minutes.
Ingredients
Galactoarainan polyglucoronic acid crosspolymer*, glycerin (plant origin), xanthan gum.
*2QR, patented bio-active polysaccharides.
You may also like