Due to an unusually high number of orders being received dispatch times may be longer than stated. Please allow up to 7 working days for dispatch.
Olbas Sugar-free Blackcurrant 40g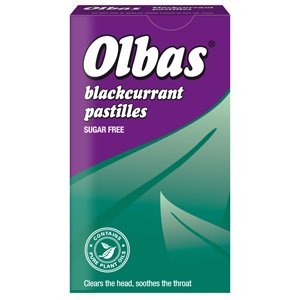 Olbas Sugar-free Blackcurrant 40g
£2.49 Save: £0.50 RRP: £2.99
Brand: Olbas
Code: 2794212
Weight: 40g (includes packaging)
Description

Clears the head and soothes the throat.

When a blocked nose comes with a sore throat too, reach for your Olbas Pastilles. They're pastilles with Olbas built-in, to decongest your nose and soothe your throat in one. What's more, they'll even help to take the pain out of a catarrhal headache.

With a packet popped in your pocket, you're ready to bring effective relief to blocked noses and sore throats anytime, anywhere.



Directions

Adults, the elderly and children aged 7 and over.
Dissolve one pastille slowly in the mouth as required. No more than 8 pastilles should be taken in any 24 hour period.
Not recommended for children under 7.
If you take too many pastilles or you experience side effects such as allergic symptoms, rash, skin irritation, heartburn, wheezing or shortness of breath that you think may be due to the medicine, discontinue taking the pastilles and consult your doctor or pharmacist immediately.
Consult your doctor before taking the pastilles if you are pregnant or breastfeeding
Warnings

This product may be taken during pregnancy. However, it is advisable to avoid all non-essential medication during the first three months of pregnancy.

Do not take if you are allergic to the active ingredient or other ingredients,
Patients with asthma must consult their doctor before taking these pastilles.
This product contains maltitol, which is a polyol; if taken in excess of the stated dose it may cause diarrhoea.
Aspartame is a source phenylalanine.
If symptoms persist, consult your doctor.

How to store
Do not store above 25ºC.
Do not use after the expiry date printed on the bottom of the carton.
Keep all medicines out of sight and reach of children.
Ingredients

Active Ingredients:(per pastille) Eucalyptus Oil Ph Eur 19.7 • Peppermint Oil Ph Eur 19.0 • Levomenthol Ph Eur 1.7 • Juniperberry Oil BPC (1949) 0.8 • Clove Oil Ph Eur 0.03.
You may also like