Omron E2 Elite Electronic Nerve Stimulator OMRE2ELITE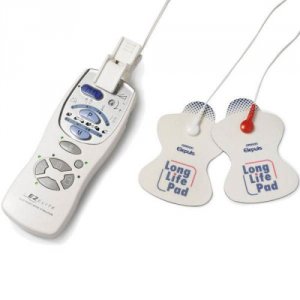 Omron E2 Elite Electronic Nerve Stimulator OMRE2ELITE
£49.90 Save: £19.60 RRP: £69.50
This product is typically dispatched within 3-5 working days from date of order and is not suitable for our next day delivery service.
Brand: Omron
Code: 3179132
Weight: 175g
Description
This Electronic Nerve Stimulator enables you to reduce and relieve your pain symptoms. The treatment alleviates muscle and nerve pain through gentle stimulation. For active people, it provides a flexible massaging experience which has a very beneficial effect on muscle and shoulder or neck stiffness. This unit is also very good for soothing overall bodily fatigue and improves the blood circulation in the treated areas.
The Omron Elite Electronic Nerve Stimulator features:
9 treatment programs
4 treatment zones (adjustable)
4 massage types
10 intensity levels
Soft mode
Area and point treatment
Long life pads (washable)
Incl. batteries
What is TENS?
Transcutaneous Electronic Nerve Stimulation, or TENS, is a highly-developed technology for physiotherapeutic treatment. Light electrical pulses stimulate and revive the areas of the body to which the electronic pads are attached.
Pain can be treated effectively
Muscle training after sport injuries can be assisted
General relaxation can be achieved
Transcutaneous electrical nerve stimulation involves the transmission of electrical energy from an external stimulator to the peripheral nervous system via continuously placed conductive gel pads. TENS can be sub-classified into two variants: low-intensity (1–2 mA), high-frequency (50–100 Hz) TENS; and acupuncture-like high-intensity (15–20 mA), low-frequency (1–5 Hz) or "dense-disperse" TENS. The purported mechanism of action of TENS invokes both spinal supraspinal theories.
TENS can help with all acute and chronic pain:
Tension headaches
Shoulder & arm pain
Pain in the neck vertebrae
Pain in the thoracic spine or in the lumbar spine
Hip and knee joint complaints
Pain in the ankle or heel
Pain in the Achilles tendon (achyllodynia)
Trigeminus neuralgia
Carpal tunnel syndrome
Polyneuropathy of the lower leg
Pain after a shingles infection
Directions
The Electronic Nerve Stimulator comes complete with comprehensive instructions enclosed within the packaging. Please ensure you read all of the instructions before first use.
Warnings
This unit must not be used in combination with the following medical devices:
Internally transplanted electronicmedical devices, e.g. pacemakers
Electronic life support equipment, such as respirators
Electronic medical devices attached to the body, such as electrocardiographs
Using this unit with other electronic medical devices may cause erroneous operation of those devices.
Persons with the following conditions must consult the doctor before using this unit:
acute disease
malignant tumor
infectious disease
pregnancy
cardiac dysfunction
high fever
abnormal blood pressure
skin sensory disorders or skin problems
receiving medical treatment, especially those feeling discomfort
May cause an accident or ill health.
Ingredients
There are no ingredients listed for this product.
You may also like