Orovite Tablets Pack of 100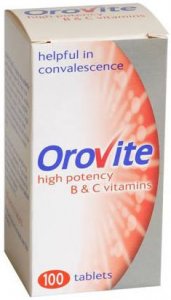 Orovite Tablets Pack of 100
Description
Orovite Tablets can be used for the replacement of vitamins lost during illness or convalescence, as they contain high potency B and C vitamins, which are essential for both physical and mental well-being, and during illness these vitamin levels may fall.
Directions
Adults and children over 12 years:
One tablet three times a day.
Not recommended for children under 12 years.
Warnings
Do not exceed the stated dose.
Consult a doctor if taking medication for Parkinson's disease
Ingredients
Maroon tablets containing thiamine hydrochloride (vitamin B1) 10mg, riboflavin (vitamin B2) 5mg, pyridoxine hydrochloride (vitamin B6) 5mg, nicotinamide 33.3mg and ascorbic acid (vitamin C) 100mg.
You may also like