Regelle Vaginal Moisturiser. 6.5g Pack of 6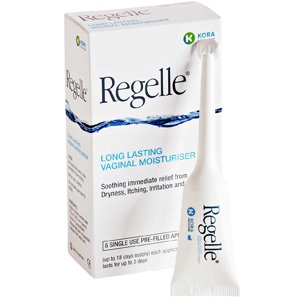 Regelle Vaginal Moisturiser. 6.5g Pack of 6
£8.09 Save: £1.65 RRP: £9.74
This product is typically dispatched within 3-5 working days from date of order and is not suitable for our next day delivery service.
Brand: Regelle
Code: 3816477
Weight: 45g (includes packaging)
Description
Regelle is a water-based vaginal moisturiser that is clinically proven to provide soothing, continuous moisture, giving relief from symptoms of vaginal dryness, itching, irritation and discomfort. Regelle is non-hormonal and can be used in conjunction with systemic hormone replacement therapy (HRT). Regular use of Regelle, once every 3 days, can help maintain vaginal health and comfort by replenishing essential vaginal moisture before and after menopause.
For many women, vaginal dryness is a common problem that affects and interferes with their day-to-day lives. Vaginal dryness can occur at any age. Women may experience dryness during the menopause, times of stress or as a side effect of certain medication. The effects of vaginal dryness vary from woman to woman, ranging from minor discomfort to painful sexual intercourse. Regelle works by coating the entire vaginal passage and provides immediate relief. Dry cells are then shed naturally, leaving healthier and more supple skin beneath. Regular use of Regelle alleviates symptoms of vaginal dryness.de effect of certain medications and medical treatments. The effects of vaginal dryness vary from woman to woman, ranging from minor discomfort to painful sexual intercourse.
Directions
To achieve best results, it is recommended to apply Regelle in the morning, once every 3 days and not just before sexual intercourse. Depending on the level of dryness, Regelle can be used more or less frequently. Regelle can be used daily.
Regelle is applied directly into the vagina from the hygienic pre-filled applicator. The applicator is designed to deposit the recommended amount of Regelle exactly where it is needed. When used as directed, a small amount of moisturising gel will remain in the applicator. Discard this excess gel along with the applicator.
Regelle pre-filled applicators should be used immediately after opening and are for single use only. Please do not attempt to reuse an applicator as its safety when reused has not been tested. For further instructions, please see package insert.
Warnings
Do not use if you are allergic to any of the listed ingredients. For pregnancy or breastfeeding, consult your healthcare professional before use. Regelle contains no spermicide and will not protect against pregnancy. Do not use if an applicator is damaged. Return all contents to place of purchase. Do not use in children. Keep out of reach of children. Do not use after the expiry date. Do not store above 25°C. Store at room temperature. Do not refrigerate or freeze.
Ingerdients
Regelle contains purified water Ph.Eur. 78.82% w/w, glycerol, mineral oil, polycarbophil, hydrogenated palm oil glycerides, carbopol 974P, sorbic acid.
You may also like