Spring Bank Holiday and Platinum Jubilee Online Customer Service Opening Times:
Thursday 2nd June: 9am - 12noon
Friday 3rd June: Closed
What is Flexiseq?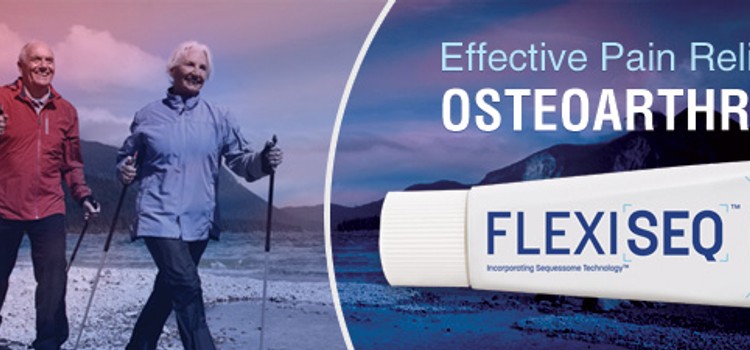 Published: 27th May, 2016 in: News Osteoarthritis
What is Flexiseq?
Flexiseq is a gel applied to the skin to help with joint pain associated with osteoarthritis. The arthritis gel can show improvement in as little as 2 days if applied twice daily.
How does Flexiseq work?
Flexiseq is an innovative topical application containing ultra-deformable phospholipid spheres, called Sequessome vesicles, suspended in a gel. When Flexiseq gel evaporates on the surface of the skin, the strongly hydrophilic Sequessome vesicles deform and penetrate through intercellular spaces in the skin, attracted to areas of high water content.
There they pass into tissues below the dermis, then enter the synovial fluid where they biolubricate the damaged cartilage to provide pain relief and improve joint function. This targeted, physical mode of action crucially means there are no drug-to-drug interactions with Flexiseq as it is not itself a drug and, as a result, it can be used by patients who may be taking a variety of medications for other diseases.
It is specifically for this technology that Flexiseq has received various recognitions and awards for its contribution to in helping people with joint pain especially those suffering from osteoarthritis.
What is Osteoarthritis?
Osteoarthritis is a condition that affects your joints. The surfaces within your joints become damaged so the joint doesn't move as smoothly as it should. When a joint develops osteoarthritis, some of the cartilage covering the ends of the bones gradually roughens and becomes thin and the bone underneath thickens. All the tissues within the joint become more active than normal – as if your body is trying to repair the damage.
How do I use Flexiseq?
Flexiseq is applied in 3 simple steps:
Apply twice daily: once in a morning, once in an evening
Make sure the whole area is covered
Allow the Flexiseq to dry before covering it with clothing
What are the benefits of Flexiseq?
Here are a few benefits to using Flexiseq:
Proven pain relief
Excellent safety profile - The only product related side effects experience in large trials were minor, transient skin irritations
Flexiseq is a convenient, topical gel
No known interactions with drugs and has been used in conjunctions with ther medications prescribed for the pain associated with osteoarthritis