Bob Martin Fiprokil Spot On Small Dogs Pack Of 3 Pipette 67mg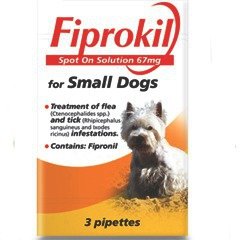 Bob Martin Fiprokil Spot On Small Dogs Pack Of 3 Pipette 67mg
£16.19 Save: £2.48 RRP: £18.67
This product is typically dispatched within 3-5 working days from date of order and is not suitable for our next day delivery service.
Brand: Bob Martin
Code: 3709144
Weight: 25g
Description
Fleas can be transmitted from pet to pet or through your dogs environment.
Fiprokil is a veterinary strength solution for the treatment and prevention of flea and tick infestations.
Fiprokil is an anti-parasitic treatment containing Fipronil which is a well proven treatment against fleas and ticks.
Fiprokil penetrates the skin and is gradually released ensuring uniform and optimal protection.
Your pets can show signs of skin irritation from ticks and they can even pass infections to your animal. A tick will feed on your pet's blood and this can cause a transmission of serious or fatal diseases. The product does not prevent ticks from attaching to your pet, but will kill ticks within 48 hours.
Warnings
Fiprokil is for external use only. Apply one pipette per pet. Please read package leaflet before use for full instructions.
1. Remove pipette from the blister packaging. Hold the pipette in an upright position and snap-off the top section of the cap, thereby opening the pipette.
2. Part the pet's coat until the skin is visible. Place the tip of the pipette directly against the bared skin and squeeze gently. Empty approximately half the contents at each of two points along the pet's back. The first application point is at the base of the head and the second application point is between the shoulder blades. Squeeze the pipette several times to ensure dosing is complete. Avoid applying the solution onto the fur and do not rub into the skin.
3. Application of the solution as directed minimises the possibility that the animal will lick the solution off. Do not allow pets to lick each other after treatment.
You may also like