Braun No Touch Forehead Thermometer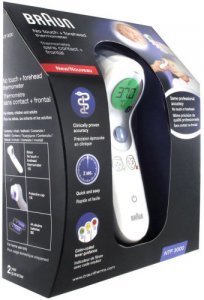 Braun No Touch Forehead Thermometer
Description
The Braun No touch and forehead thermometer is gentle enough for a sleeping baby. With its revolutionary dual technology and ultra-sensitive sensor, now you can get fast and precise temperature readings either in touch mode, by placing the thermometer on the forehead, or by holding it in front of the forehead up to 5cm away in the no-touch mode.
The ultra-sensitive sensor in combination with the innovative optical system captures twice as much radiated heat compared to traditional forehead thermometers. The captured energy is then converted into a clinically accurate temperature reading.
What's more, in no touch mode the proximity sensor guides the thermometer to the correct distance, to help you take the temperature correctly. Taking the temperature at the right position and distance is essential to getting accurate readings with non-invasive technologies, and Braun's guidance system makes it easy to get it right. Coupled with its large display and colour coded reading, interpreting the temperature is easy.
Enjoy the peace of mind that comes from the combination of professional accuracy and gentle convenience.
Unique dual no touch and touch mode
Large colour coded display
Patented ultra sensitive sensor
Backlight for nighttime reading
Clinically proven Braun accuracy
Breakthrough technology
Silent mode for sleeping baby
Fast 2 second reading
Gentle and easy to use
Positioning guidance system
Directions
Follow the instructions contained within the packaging for an accurate reading every time.
Warnings
There are no warnings listed for this product.
Ingredients
There are no ingredients listed for this product.
You may also like