Calmurid Cream for Dry Skin 100g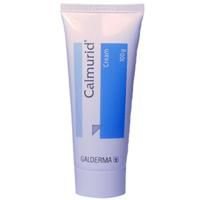 Calmurid Cream for Dry Skin 100g
£9.99
Brand: Calmurid
Code: 0040741
Weight: 100g (includes packaging)
Description
Calmurid cream is used as a moisturising cream for the treatment of dry, rough, scaly skin such as eczema and similar conditions.
The active substances in Calmurid are urea and lactic acid which act as moisturisers. This helps make your skin soft and supple.
Due to lactic acid's keratolytic properties (to break down hard skin cells) and urea's hydrating properties, Calmurid is used primarily in the treatment of dry, scaly skin. Ichthyosis and general dermatitis in the absence of inflammation are some of its indications.
Directions
Always use Calmurid exactly as your doctor has told you. You should check with your doctor or pharmacist if you are not sure.
Calmurid Cream is for external use only.
First gently wash and dry the affected areas of your skin.
Apply a thick layer over the affected areas. Do not rub it in yet.
Leave it on your skin for 3 to 5 minutes, then rub it in gently.
Wipe off any excess cream with a tissue (do not wash it off).
The cream should be used in this way twice a day, or as advised by your doctor.
If you need to use Calmurid on your feet, soak them in water for 15 minutes and then dry them with a rough towel before use.
How long you will have to use this product will depend on how quickly your condition improves. Always seek the advice of your doctor or pharmacist.
Warnings
Do not use Calmurid if you are allergic (hypersensitive) to urea or lactic acid or any of the other ingredients of Calmurid.
Take special care with Calmurid:
Avoid contact with the eyes, eyelids, lips and other mucous surfaces.
Upon accidental contact, rinse the affected area with clean water.
Calmurid may cause stinging if applied to damaged skin (raw cracked areas or cracked skin) or sensitive areas of the body such as the mouth or nostrils.
Using other medicine:
This cream might affect other medicines that you apply to your skin. Tell your doctor or pharmacist if you are using other medicines in this way.
Please tell your doctor or pharmacist if you are using or have recently used any other medicines, including medicines obtained without a prescription.
You should not use Calmurid and tell your doctor if you are pregnant, planning to become pregnant or are breast-feeding. Your doctor will then decide whether you should use Calmurid.
Ask your doctor or pharmacist for advice before taking any medicine.
Ingredients
Urea (10% w/w), lactic acid (5% w/w), glyceryl monostearate, betaine monohydrate, diethanolamine cetyl phosphate, hard fat, cholesterol, sodium chloride and purified water.
You may also like