Care Epsom Salts 300g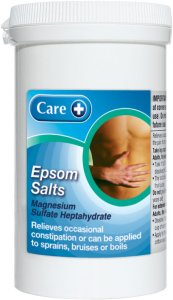 Description
Epsom Salt, also known as magnesium sulphate is commonly used in the bath as bath salts as it is said to ease stress, flush out toxins, helps ease migraines plus other benefits. You can also use epsom salts for treating aching muscles, sports injuries, foot baths, relieve sore muscles and for just relaxing.
There are numerous benefits to using Epsom salts including stress relief, flushing out toxins, and an improvement in circulation. This is because stress drains magnesium out of the body, thus using Epsom salts can restore these levels. Epsom salts also help to reduce irregular heartbeats thus lowering blood pressure.
Directions
For treating constipation:
Consume 1 to 3 x 5ml spoonful of this salt, dissolved in 250ml of water as required.
The solution could be consumed with any fruit juice for flavour
Warnings
This salt can produce temporary and undesirable side-effects on the eyes, nose or throat.
In case of any prolonged reactions or side effects, consult doctor.
Store the salts in same container.
Keep it away from heat and moisture.
Store all medications away from children and pets
Ingredients
Magnesium Sulphate Heptahydrate 100%
You may also like