Colofac IBS Tablets Pack of 15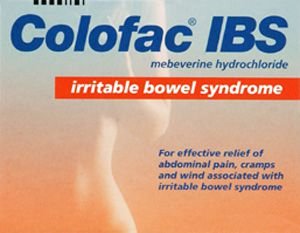 Colofac IBS Tablets Pack of 15
£4.09 Save: £1.01 RRP: £5.10
This product is typically dispatched within 3-5 working days from date of order and is not suitable for our next day delivery service.
Brand: Colofac
Code: 2367126
Weight: 175g (includes packaging)
Description
Colofac IBS Irritable Bowel Syndrome Tablets: Colofac is a well known antispasmodic. It contains the active ingredient Mebeverine Hydrochloride which is used for the management of irritable bowel syndrome. It is used to relieve the symptoms of irritable bowel syndrome, which include abdominal pain and cramps, bowel spasm, diarrhoea and flatulence. Colofac IBS works by relaxing the muscles in the gut, thereby relieving the symptoms of irritable bowel syndrome.
This medicine is used as treatment for the symptoms of:
irritable bowel syndrome
chronic irritable colon
spastic constipation
mucous colitis
spastic colitis
Directions
Adults and the elderly:



Take 1 tablet 3 times a day
The number of tablets you take can be lowered if your symptoms improve
Do not take more than 3 tablets per day.

Do not give Colofac IBS to children or adolescents younger than 18 years.
Try to take the tablets 20 minutes before a meal - some people find their symptoms to be strongest after they have eaten.
Swallow the tablets whole with water. Do not chew the tablets.

How to stop taking Colofac IBS

You can lower the dose if your symptoms get better.



If you take more Colofac IBS than you should

If you or someone else takes too much Colofac IBS (an overdose), talk to a doctor or go to a hospital straight away. Take the medicine pack with you.

If you forget to take Colofac IBS

If you miss a tablet, wait until the next dose is due. Do not try to make up for the dose you have missed. Do not double dose to make up for a forgotten dose.If you have any further questions on the use of this product, ask your doctor or pharmacist
Warnings
Do not take Colofac IBS if:
You are allergic to any of the tablet ingredients (see section 6 for a list of ingredients)
You are younger than 18 years of age
If any of the above applies to you, do not take this medicine and talk to your doctor or pharmacist.
Take special care with Colofac IBS
See your doctor before using any IBS treatment if you:
have not suffered from IBS before or
have developed new symptoms or your symptoms have become worse
have liver or kidney problems.
Talk to your doctor or pharmacist if any of the following applies to you:
You are 40 years of age or over and your symptoms have changed or it has been some time since you last had IBS
You have blood in your stools (faeces)
You are feeling sick (nauseous) or are sick (vomiting)
You are looking pale and feeling tired
You have constipation
You have a fever
You have recently travelled abroad
You are pregnant, or planning to become pregnant
You are a woman and you have unusual bleeding or discharge from your vagina
You have difficulty or pain when passing water (urinating)
Your doctor will tell you whether it is safe for you to start taking Colofac IBS.
Taking Colofac IBS with food and drink
You can drink alcohol while you are taking Colofac IBS.
Taking other medicine
No interactions with other medicines are known.
Pregnancy and breast-feeding
Ask your doctor or pharmacist for advice before taking Colofac IBS if you are pregnant or might become pregnant. There is only limited information about the safety of Mebeverine for pregnant women. Your doctor may advise you to stop taking Colofac IBS before you become pregnant or as soon as you know you are pregnant. Colofac IBS should not be used during breast-feeding.
Driving and using machines
This medicine is not likely to affect you being able to drive or use any tools or machines.
Important information about some of the ingredients of Colofac IBS
This medicine contains lactose and sucrose (types of sugar). If you have been told by your doctor that you cannot tolerate or digest some sugars (have an intolerance to some sugars), talk to your doctor before taking this medicine.
Possible side effects
Most people will not have problems, but some may get some side effects (unwanted effects or reactions).

If you get any of these serious side effects, stop taking the tablets. See a doctor at once:
Difficulty in breathing, swelling of face, neck, tongue or throat (severe allergic reactions)
These other effects are less serious. If they bother you talk to a pharmacist:
Skin rash, red itchy skin
If any side effect becomes severe, or you notice any side effect not listed here, please tell your pharmacist or doctor.
Ingredients
What Colofac IBS contains
Each tablet contains 135 mg mebeverine hydrochloride

The tablets also contain lactose, starch (potato), povidone, talc, magnesium stearate, sucrose, gelatin, acacia and carnauba wax.
What Colofac IBS looks like and contents of the pack
Colofac IBS tablets are white, round and sugar coated with no markings.Colofac IBS is available in packs containing 10, 15, 84 or 100 tablets in blister strips.Not all pack sizes may be marketed..
You may also like