Gillette Venus Breeze Razor For Women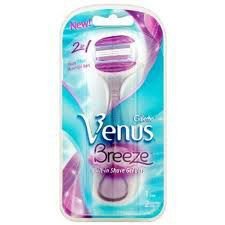 Gillette Venus Breeze Razor For Women
Description
Blades and shave gel bars flex for incredible closeness around every curve.
ShowerSafe blade refills are individually sealed to stay clean and dry, even when stored in the shower.
Shaving Compact conveniently stores your razor and up to 2 refills in the shower.
Gillette Venus Breeze Razor is a two-in-one razor specially formulated with a built-in shave gel bar so you don't need extra shaving foam or soak. It's designed to provide greater closeness around any curve, without causing irritation. Its unique gel bar feature allows you to simply soak the razor and shave, with no mess and no fuss - just simply shave and let it take effect. Enriched with soothing botanical oils with an emulsifying fresh tropical scent, Gillette Venus Breeze Two in One Razor gives you a rich, neat and fragrant shaving experience with smooth, soft results. The razor provides a light lather for a smoother glide on your skin, creating instant softness and a greater feel without dryness. The three blade cartridge allows you to experience the soothing sensation over and over again. With Gillette Venus Breeze Razor you can enjoy amazingly smooth skin in one soft breeze, providing shaving perfection from start to finish. With just a single razor blade, shaving has never been so simple and the results have never been more satisfying. The shave gel bars flex for incredible closeness around every curve, giving greater precision and with a smoother and softer finish, leaving your skin radiant and smooth
Directions
The trick to shaving is to wet your skin and let it soften from the heat and moisture. You don't want to shave dry skin. Shaving is a natural exfoliator and if you try to dry shave, you run the risk of clogging up the razor with dead skin while putting yourself at risk for nicks and razor burn.
You may need to experiment with different brands of razors to find the perfect one for you.
Be sure to change razors or cartridges on a regular basis; a dull blade can lead to nicks.
Be sure to exfoliate your skin before shaving. It gets rid of all the dead skin cells that could clog up your razor, preventing a close shave. There are several ways to exfoliate. You can use exfoliating gloves or a cloth in the shower or dry brush before you shower (never get a wooden brush wet, it will mildew fast).
Since your leg hairs grow down, you'll want to start at your ankles and shave up.
For your underarms, you'll need to shave in every direction since the hair there grows in at many different angles.
When finished shaving, apply oil or moisturiser. The skin on your legs has few oil glands and has a tendency for dryness.
Ingrown hairs are caused when the hairs curl back under the skin. Avoid ingrown hairs by exfoliating daily and using a glycolic acid cleanser on affected areas.
Warnings
Age Restriction
You must be at least 16 years old to purchase this product.
Ingredients
There are no ingredients listed for this product.
You may also like