Haliborange Kids Omega 3 Orange Flavour Syrup 200ml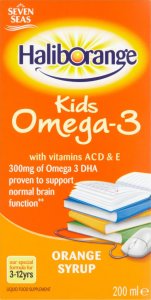 Haliborange Kids Omega 3 Orange Flavour Syrup 200ml
£3.79 Save: £2.63 RRP: £6.42
Brand: Seven Seas
Code: 3398369
Weight: 425g (includes packaging)
Description
From 3 years onwards, Haliborange Kids Omega-3 Syrup provides your child with all of the goodness of vitamins A, C, D and E plus Omega-3 nutrients which may help maintain healthy brain function.
For an easy way to get your child to take Omega-3, especially if they don't like chewy capsules or tablets, give them Haliborange Omega-3 Syrup. This delicious tasting syrup provides the important Omega-3 nutrients, which may help maintain healthy brain function.
Also contains vitamins A, C, D & E, which are beneficial to healthy growth, healthy skin and eyes and helping to maintain a healthy immune system. Contains no artificial sweeteners or artificial colours – just pure natural orange juice concentrate.
Free From:
Lactose
Wheat
Gluten
Gelatin
Peanut
Treenut
Yeast
Artificial Sweetener
Artificial Colours
Artificial Flavours
Directions
Children over three years of age:
Two 5ml teaspoons daily.
Adults also love the taste and you can follow the same guide.
Do not exceed the recommended intake.
Warnings
Women who are pregnant or planning a pregnancy should consult their doctor before taking vitamin or mineral supplements. Excessive consumption may produce laxative effects.
Food supplements are intended to supplement the diet and should not be regarded as a substitute for a varied diet and a healthy lifestyle.
Keep out of reach of young children.
Replace lid securely.
Once opened, store within the carton and use within two months of opening.
Store in a cool, dry place, below 25°C
Ingredients
Water, Sucrose, Cod Liver Oil 23%, Glycerol, Orange Juice Concentrat1 7.6%, Tuna Fish Oil 2.6%, Vitamin C, Emulsifier: Polyoxyethylene Sorbitan Monostearate (Polysorbate 60), Acidity Regulator: Citric Acid; Flavours: Lemon, Orange; Stabiliser: Xanthan Gum; Potassium Sorbate, Vitamin E, Vitamin A Prep (Vitamin A, Sunflower Oil), Vitamin D Prep. (Fractionated Vegetable Oil, Vitamin D).
You may also like