Keratex Hoof Wash 1 Litre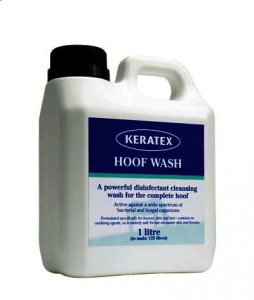 Keratex Hoof Wash 1 Litre
£9.49
This product is typically dispatched within 3-5 working days from date of order and is not suitable for our next day delivery service.
Brand: Keratex
Code: 9995494845
Weight: 1000g
Description
Keratex Hoof Wash is an economical and effective disinfectant for hooves and fetlocks. 1 litre dilutes to make 125 litres for a soak.
Directions
Add two capfuls (40mI) to 5 litres of clean water and stir well. Brush the diluted solution onto the fetlock hair and skin, coronary band, heels, hoof wall, frog and sole so everything is well wetted. Leave to dry: do not wash off, or use in conjunction with soap or other cleansing agents or disinfectants. Use as required.
This product can also be used as a disinfectingleg/hoof soak in proprietary soaking boots: soak legs and hooves for 5-10 minutes and leave to dry as above.
Warnings
For use on equine hooves only.
Avoid contact with eyes - in case of contact with eyes, rinse immediately with plenty of water and seek medical advice
Keep out of reach of children.
Dispose of in accordance with local authority instructions.
Harmful to aquatic organisms.
Not to be used on animals intended for human consumption.
Keep away from horse's eyes, nose and mouth.
Ingredients
Alkyl dimethyl benzyl ammonium chloride CAS No. 68242-85-1.
You may also like