MediGenix CoolMeds Isothermic Bag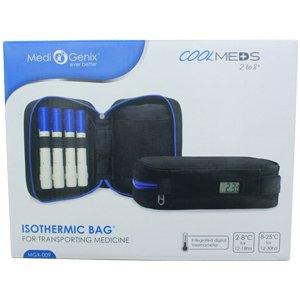 MediGenix CoolMeds Isothermic Bag
£39.99 Save: £9.96 RRP: £49.95
This product is typically dispatched within 1-3 working days from date of order when using our standard delivery or 48 Hour Tracked and Signed service.
Brand: MediGenix
Code: 5551218004
Weight: 1300g (includes packaging)
Description
The MediGenix CoolMeds 2 - 8°C isothermic bag has been specially designed, using high quality materials, to safely transport temperature sensitive medicine.
The bag stays cool for 12—18 hours at 2 to 8° C and for up to 30 hours below 25° C*
The MediGenix CoolMeds 2 - 8°C medicine bag is fitted with an integrated digital thermometer, therefore giving peace of mind by allowing the patient to monitor the bag's internal temperature without opening the bag;
The 4 elasticated product loops and the netted pouch ensure that products are kept at the optimal position in the carry bag (suitable for vials, syringes and pens - not boxes or bubble packs);
As a guide, the internal space accommodates 4 pens that are up to 18cm long and 1.8cm in diameter;
Includes two Cold Packs with double outer covers which offer a longer cooling effect and durability during frequent use;
Includes two Buffer packs which absorb excessive cold and protect products from over cooling;
High quality insulation and external canvas combined with a strong zip for opening and handle for transport, these features make it easy to use and handle;
Hotel Fridge Card included. This card can be used in hotels with card type activation of electricity thus ensuring the hotel fridge is running while out of the room;
Internal thermometer batteries included: 2 x AG13 batteries
*Depending on external factors such as the ambient temperature; ambient humidity; how many times the bag is opened etc. As such the responsibility for ensuring the medication is kept cold enough is solely that of the user and Syringa UK Ltd cannot be held responsible or liable.
Always freeze your gel packs for at least 12 - 14 hours in a domestic freezer before using them in your medicine bag. Always keep your cooled medical bag closed unless you need to access your medication. Never place your medication in direct contact with the frozen gel pack. Take caution not drop your cold packs whilst frozen.
With regards to travelling with your bag, the following is advised:
Travel with a copy of your prescription AND a letter from your doctor with details of your medication (including its generic name, not just the brand name and the name of the health condition that you need the medication for). As well as helping you avoid any problems at customs, this will be useful if you need medical help while you're away.
It may be worth getting the information translated into the language of the country or countries that you're visiting.
Always have the cold packs in their frozen state.
It may be useful to have your sales invoice as it details the product description "MediGenix CoolMeds medicine & insulin carry case (2 - 8°C)".
Always seek advice from the airline you are travelling with or the departure/transit airport authorities regarding travelling with cooled medical bags or cooling devices.
Contains:
1 x Isothermic bag
1 x Digital thermometer
2 x Cold packs
2 x Buffer pads
1 x Product information leaflet
Warnings
Although every care has been taken to ensure your CoolMeds bag delivers consistently cold results, there are variables that can affect the functionality of the isothermic bag. It's important to bear these in mind and to check the thermometer readings as the manufacturer or Weldricks cannot be held responsible for variables over which it has no control. In particular these are:
ambient temperature
ambient humidity
exposure to direct sunlight
the number of times the bag is opened
the length of time the bag is left open
the temperature of the cold packs when first put into the bag
the temperature of the medicine when first put into the bag
failure of digital thermometer or batteries
incorrectly positioned thermometer probe
incorrectly positioned medicine in the bag
length of time the medicine is left in the bag
DISCLAIMER:
The user of the bag solely accepts the responsibility of maintaining his/her medicine at the required temperature. In NO event shall Syringa UK Ltd or Weldricks be liable for any direct, indirect, punitive, incidental or special consequential damages to property, medicine or life, whatsoever arising out of or connected to the use or misuse of the CoolMeds 2 - 8 bag, cold packs, buffer pads, thermometer or fridge card.
You may also like