Nelsons Creams Burns 30g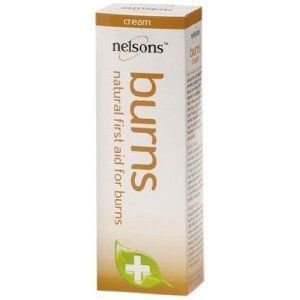 Description
Nelsons Burns Cream is a natural first aid application providing relief for minor burns and scalds. When applied immediately can help: relieve pain, prevent blistering and promote rapid healing. A topical herbal remedy traditionally used in symptomatic treatment of minor burns and scalds.
Directions
Check that the tube seal is not broken before first use. Pierce tube seal with point in top of cap before first use. Apply the cream to cover more than the affected area. Cover with a dry dressing and bandage lightly if necessary.
Warnings
Keep all medicines out of the reach of children. Side effects are rare. If you are pregnant or breastfeeding always consult a doctor or homeopath before using this product. If you notice anything unusual or symptoms persist, consult your doctor or homeopath. Do not use if sensitive to any of the ingredients.
Ingredients
Active Ingredients: Calendula Officinalis Tincture 3% v/w. Uritca Urens Tincture 3% v/w. Echinacea Angustifolia Tincture 0.6% v/w. Hypericum Perforatum Tincture 2.4% v/w. Other ingredients: Purified Water, White Soft Paraffin, Cetearyl Alcohol, PEG-20 Stearate, Methyl Hydroxybenzoate (E218), Honey, Propyl Hydroxybenzoate (E216).
You may also like