Normacol Sachets 7g Pack of 60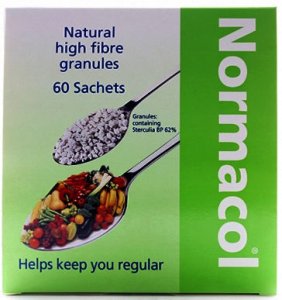 Normacol Sachets 7g Pack of 60
£8.79
5 sold in the last hour!
Delivery options for this product have been restricted. More details about the delivery options available will appear if you add this product to your basket.
This product is typically dispatched within 3-5 working days from date of order and is not suitable for our next day delivery service.
Brand: Normacol
Code: 0264341
Weight: 540g (includes packaging)
Description
Normacol granules contain 62% w/w sterculia, which is a vegetable gum from the karaya tree. It is this natural dietary fibre which helps to relieve constipation and help keep you regular.
It is also used by people:
with colostomies or ileostomies,
who need a high fibre diet, for example in diverticular disease of the colon,
who have had rectal or anal surgery,
who have swallowed something sharp to reduce the chance of damage to the intestine (gut)
Directions
Always take Normacol exactly as your doctor has told you. You should check with your doctor or pharmacist if you are not sure.
The usual dose for adults and the elderly is 1 to 2 sachets, or 1 to 2 heaped 5ml spoonfuls, taken once or twice a day after meals. Do not take NORMACOL if you are lying down or just before you go to bed.
The usual dose for children aged 6 to 12 years old is half the adult dose (half to 1 sachet or half to 1 heaped 5ml spoonful).
If Normacol does not work after you have taken it for 4 days, do not take anymore, and see your doctor or pharmacist.
To take Normacol, put the dry granules on your tongue from the sachet, spoon or your hand, or just take a few at a time if that is easier.
Alternatively you can sprinkle Normacol on to soft food such as yoghurt.
Swallow the granules with plenty of water or a cool drink, so that the oesophagus (gullet) does not become blocked. Never chew or crush the granules.
If you take more Normacol than you should and do not have bowel movements, see your doctor
If you forget to take Normacol, just take the next normal dose at the usual time. Do not take a double dose to make up for a forgotten dose.
If you have any further questions on the use of this product, ask your doctor or pharmacist.
KEEP ALL MEDICINES OUT OF REACH AND SIGHT OF CHILDREN.
PLEASE READ ALL PRODUCT PACKAGING AND LABELS PRIOR TO USE.
Warnings
Do not take Normacol if your doctor has told you that you have:
A blockage in your intestine (gut)

Total loss of muscle tone in the colon.

Faecal impaction.

Allergy to any of the ingredients
Talk to your doctor before taking Normacol:
if you have ulcerative colitis (an inflammatory disease of the bowel which can cause abdominal pain and bloody diarrhoea)

.

If you have been told by your doctor that you have an intolerance to some sugars, contact your doctor before taking this medicinal product.
Please tell your doctor or pharmacist if you are taking or have recently taken any other medicines, including medicines obtained without a prescription.
Normacol should be taken after meals and always drink plenty of water or soft drinks.
Normacol can be taken if you are pregnant or breast-feeding. Ask your doctor or pharmacist for advice before taking any medicine.
KEEP ALL MEDICINES OUT OF REACH AND SIGHT OF CHILDREN.
PLEASE READ ALL PRODUCT PACKAGING AND LABELS PRIOR TO USE.
Ingredients
Sterculia, sodium bicarbonate, sucrose, talc, titanium dioxide, paraffin wax and vanillin.
You may also like