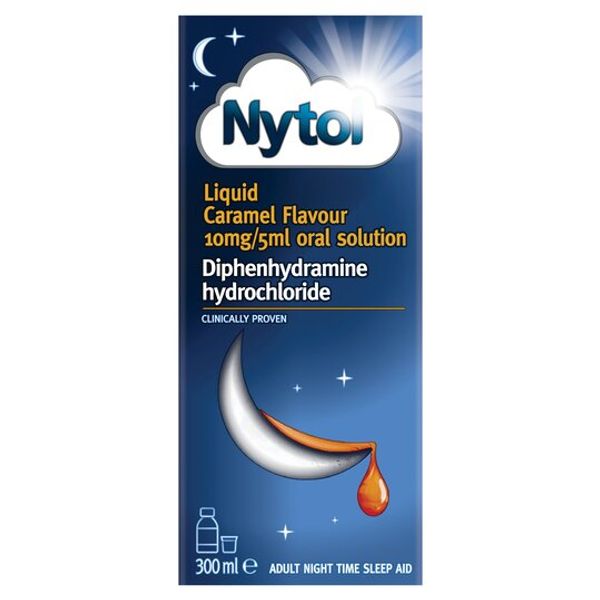 Nytol Liquid Caramel Flavour 300ml
This product is typically dispatched within 3-5 working days from date of order and is not suitable for our next day delivery service.
Description

Nytol Liquid Caramel Flavour 10mg/5ml is an adult nighttime sleep aid that can help to alleviate symptoms of temporary insomnia (sleeplessness) for those aged over 16.

It is the first clinically proven liquid sleep aid produced by Nytol which provides an alternative for those who are unable or prefer not to swallow sleeping tablets.

It contains an active ingredient that helps to help control your brain's waking system in order to help treat temporary sleeplessness. If you're looking for an effective sleep aid to treat symptoms of short-term insomnia, try Nytol Liquid Caramel Flavour.
Directions

This product should only be used as a sleep aid for anyone aged over 16 and adults. Do NOT administer to children aged under 16.

Take 10 - 25 ml at bedtime or after retiring when sleep is not easy to achieve.

Do NOT take a repeat dose in the same night.
Warnings

If you take too much of this product seek immediate medical attention as soon as possible.

Take this medicine and the patient information leaflet with you.

If you are unsure whether this product is suitable for you, seek advice from a pharmacist.

Avoid alcohol when taking this medicine.

This medicine causes drowsiness and sedation and can also cause dizziness, blurred vision, attention disturbances and slower reaction times.

Do NOT drive or operate machinery if you affected in this way when taking Nytol.
Ingredients

Active ingredient: each 5ml contains Diphenhydramine Hydrochloride 10mg,

Also contains: Sucrose, Propylene Glycol and Parahydroxybenzoates (Methyl E218, Ethyl E214, Propyl E216 & Butyl).
You may also like