Prime Fifty Maintaining Muscle Powder 490g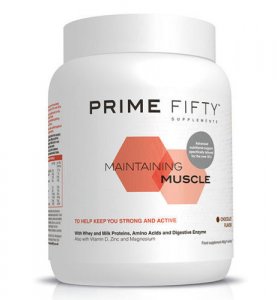 Prime Fifty Maintaining Muscle Powder 490g
Description
Prime Fifty Maintaining Muscle Powder has been specifically developed for the needs of the over 50's. Maintaining muscle health is vital for movement and strength and this unique formula contains key nutritional ingredients to help keep your muscles in prime condition.
Whey Protein and Milk Protein
High quality protein – the most important nutrient for our muscles.
Lactase
To aid the digestion process of whey and milk protein.
L-Leucine
An essential amino acid that contributes to overall muscle health.
Vitamin D, Potassium, Magnesium and Calcium
A powerful combination of vitamins which all contribute to normal muscle function.
Directions
Use 35g of powder (two heaped scoops) in 250ml of milk or water.
Always add the powder to the milk/water. Whisk well.
Take once or twice a day, with or between meals.
Warnings
Do not exceed the recommended dose.
Ingredients
Whey Protein Concentrate (Milk) (Emulsifier: Soya Lecithin (E322)), Maltodextrin, Milk Protein Isolate (Milk), Inulin, Flaxseed, L-Leucine, Potassium Cholride, Flavouring, Colour: Beetroot Red, Magnesium Bisglycinate Prep (L-Glycine, Magnesium Oxide, Citric Acid, Silicon Dioxide), Vitamin C Prep (Asorbic Acid, HPMC), Magnesium Oxide, Calcium Carbonate, Thickener: (Xanthan Gum), Lactase, Calcium Bisglycinate (Calcium Oxide, L-Glycine, Citric Acid, Silicon Dioxide), Nicotinaminde, Vitamin E Prep (DL-Alpha-Tocopheryl Acetate, Silicon Dioxide), Sweetener (Sucralose), Grape Seed Extract, Zinc Oxide, Zinc Bis-glycinate Prep (L-Glycine, Zinc Oxide, Citric Acis, Silicon Dioxide), Pyridoxine Hydrochloride, Vitamin D3 Prep (Medium Chain Triglycerides, Gum arabix E414, Sucrose, Starch, DL-alpha-Tocopherol, tri-calcium phosphate), Riboflaving, Co-Enzyme Q10,Thiamin Hydrochloride, Cyanocobalamin Prep (Di-Calcium Phosphate), Black Pepper Extract, Manganese Sulphate, Copper Sulphate, Copper Bis-glycinate Prep (Copper Carbonate, L-Glycine, Silicon Dioxide), Manganese Bis-glycinate Prep (Manganese Carbonate, L-Glycine), Folic Acid, Chromium Picolinate, Sodium Selenate, D-Biotin, Ammonium Molybdate Tetrahydrate.
You may also like