Refresh Soothe & Protect 0.4ml Pack of 20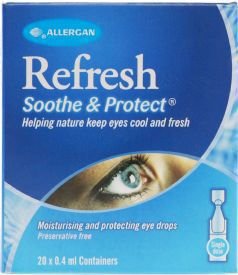 Refresh Soothe & Protect 0.4ml Pack of 20
Description
The harsh conditions of modern life mean that our eyes' natural defences are constantly under attack, often without us realising it, leaving them feeling tired and uncomfortable. Gentle and soothing refresh eye drops help keep tired eyes cool, fresh and protected from discomfort for longer. Refresh Soothe & Protect is designed to give nature a helping hand when faced with today's drying environments by maintaining your eye's natural moisture.
Directions
Tilt head back and gently squeeze 1 or 2 drops into each eye. Blink several times to wash your eye. Repeat if necessary. Discard the container immediately after use. Use as often as required to keep eyes cool, fresh and protected throughout the day.
Warnings
To avoid contamination, do not touch unit-dose tip of container to any surface. Do not reuse. Once opened, discard. Do not touch unit-dose tip to eye. Do not use if solution changes color or becomes cloudy.
Ingredients
Ophthalmic solution containing carboxymethylcellulose
You may also like