RobiCold Sinus Relief 200mg Tablets Pack of 20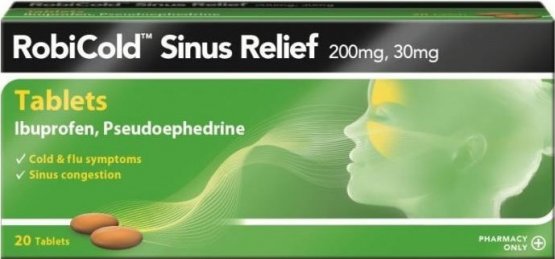 RobiCold Sinus Relief 200mg Tablets Pack of 20
£4.99
Due to legal restrictions, Pseudoephedrine containing products are limited to a total of 720mg. Products that contain Pseudoephedrine cannot be purchased at the same time as Ephedrine containing products.
This product is typically dispatched within 1-3 working days from date of order when using our standard delivery or 48 Hour Tracked and Signed service.
Brand: RobiCold
Code: 3953437
Weight: 100g (includes packaging)
Description
RobiCold Sinus Relief is used for the relief of symptoms associated with the common cold, flu and sinus congestion.
Ibuprofen relieves headaches and fever, minor aches and pains and eases sore throats.
Pseudoephedrine hydrochloride, a decongestant, relieves blocked noses and sinuses.
Directions
For short term use only.
Adults, older people and children over the age of 12 years:
1 to 2 tablets with a drink of water ever 4 to 6 hours.
Do not take more than 6 tablets in a 24 hour period.
Warnings
Not suitable for children under the age of 12 years.
If symptoms persist for more than 3 days, worsen or you experience any other symptoms not related to the original condition, discontinue treatment immediately and consult your doctor.
Do not take more medicine than the label tells you to.
Do not take if you have (or have had two or more episodes of) a stomach ulcer, perforation or bleeding or other gastrointestinal disease or if you have worsening of asthma, skin rash or itchy, runny nose associated with aspirin or other non steroidal anti-inflammatory drugs or are allergic to any of the ingredients.
Do not take if you are taking other NSAID painkillers or aspirin with a daily dose above 75mg.
Discuss with your doctor or pharmacist before taking this medicine if:
You have heart problems, previous stroke, or think you might be at risk of these conditions (for example if you have high blood pressure, diabetes, high cholesterol or are a smoker).
You are pregnant, breast-feeding, elderly, have or have had asthma, liver, kidney or bowel problems or are receiving regular treatment.
If symptoms persist or worsen, consult your doctor.
Ingredients
Ibuprofen, pseudoephedrine hydrochloride, sucrose, methyl propyl parahydroxybenzoate.
You may also like