Soleve Sunburn Relief 100ml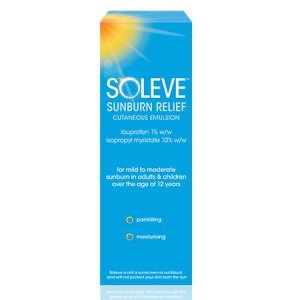 Soleve Sunburn Relief 100ml
£8.19 Save: £1.76 RRP: £9.95
This product is typically dispatched within 3-5 working days from date of order and is not suitable for our next day delivery service.
Brand: Soleve
Code: 3776804
Weight: 150g (includes packaging)
Description
If you've been unfortunate enough to get sunburnt, Soleve lotion combines two active ingredients to deliver effective relief right where it's needed: an effective analgesic, Ibuprofen, and an emollient, Isopropyl Myristate.
Ibuprofen is a well-known Non-Steroidal Anti-inflammatory Drug (NSAID) that is a powerful painkiller and reduces inflammation. Soleve is specially designed to deliver therapeutic levels of ibuprofen directly into sunburnt skin – precisely where it is needed.
Isopropyl Myristate, is an emollient which effectively soothes and moisturises the skin by trapping water. Rehydration of sunburnt skin is very important to promote the normal healing process and to make the skin feel more comfortable by reducing both the skin tightness of sunburn and the frictional irritation between sunburnt skin and clothing.
Directions
Adults, the elderly and children over 12 years old:
Use as soon as possible after the first sign of sunburn. Lightly apply the lotion to the affected areas and massage gently into the skin.
Use the lotion at regular intervals, up to eight times a day, leaving at least two hours between applications.
The lotion spreads very easily (a little goes a long way) and you will not need to apply very much. The amount needed depends on the area which is sunburnt, but as a very rough guide, an amount ranging from a 1 penny piece to a 2 penny piece will usually be sufficient.
Do not apply more than 12 ml at a time, or more than 100 ml a day. As a guide, one and a half capfuls is approximately 12ml.
Wash hands after use, unless treating them.
The lotion is designed to resist being washed off whilst swimming or bathing.
Use the lotion for a maximum of two to three days, by which time your symptoms should have subsided.
If your symptoms worsen, or continue for more than a few days, you should consult a doctor or pharmacist.
Where Soleve is used on children, it should always be applied by an adult.
Warnings
Like all medicines, Soleve can cause side-effects for some people. If any side-effect gets worse, or if you notice any not listed here, please tell your doctor or pharmacist.
Occasionally, because sunburnt skin is tender, there may be some tingling or stinging when you first apply Soleve, but this should not last more than a few minutes.
If you subsequently suffer from mild skin rashes, itching or irritation where you have applied Soleve, then stop using the product and tell your pharmacist.
Very rarely, the following side effects can happen with ibuprofen (although these are extremely uncommon with products such as Soleve that are applied to the skin). If you experience any of the following, stop using Soleve immediately, and get medical advice:
Allergic reactions (particularly in people who have a history of asthma or allergic problems), such as:
Unexplained runny nose and watery eyes, or, in more serious cases asthma or aggravated asthma involving breathing difficulties, wheezing or chest tightness.
Generalised allergic skin reactions involving itch, swelling, inflammation, redness and perhaps blistering and light sensitivity.
Other more serious generalised allergic reactions possibly involving unexplained nausea and vomiting, swollen eyes, face or tongue, difficulty swallowing, dizziness or light-headedness. Unconsciousness could perhaps occur in the most serious cases.
Kidney problems (particularly in people who have a history of kidney disease), such as:
Decreased urine volume.
Loss of weight/appetite.
Swelling to abdomen.
Problems with the digestive system (particularly in people who have a history of stomach ulcers etc), such as:
Stomach pain.
Heartburn / indigestion.
Ingredients
Ibuprofen (1% w/w), Isopropyl Myristate (10% w/w), Coconut Oil, Carbomers, Sorbitan Laurate, 2-diethylaminoethanol, Phenoxyethanol and Purified Water.
You may also like