Due to an unusually high number of orders being received dispatch times may be longer than stated. Please allow up to 10 working days for dispatch.

We are also experiencing a high volume of calls. Please use our contact us page to leave a message and we will get back to you as soon as possible.
Tampax Super Plus Tampons Pack of 20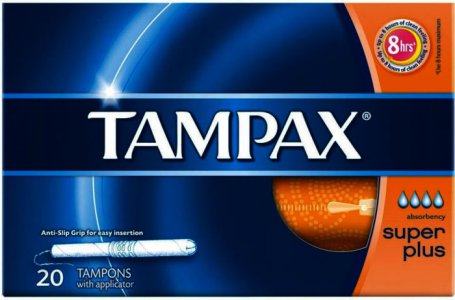 Tampax Super Plus Tampons Pack of 20
£2.49
Brand: Tampax
Code: 3327715
Weight: 130g (includes packaging)
Description
Tampax Super Plus Tampons with applicator are specially designed to open easily to be inserted easily and provide effective protection. Tampax Super Plus Tampons are for heavy flow with absorbency of 12 - 15g.
Trusted Number 1 selling tampon brand
Tampax is specially designed for
Easy opening thanks to its new wrapper design
Easy insertion thanks to the silky finish and rounded tip
Effective protection as the tampon expands to fit the shape of your body and gives you all the protection you would expect from Tampax.
Directions
Always use the lowest absorbency for your flow.
Change your tampon every 4 to 8 hours or more often if needed.
Always remember to remove your last tampon.
Warnings
Tampons are associated with Toxic Shock Syndrome (TSS).
This is a rare but serious illness that may be fatal.
Please read and save the leaflet enclosed in this pack.
Ingredients
There are no ingredients listed for this product.
You may also like