Thermoskin Knee Support Beige Large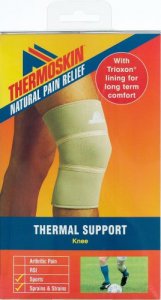 Thermoskin Knee Support Beige Large
£15.99 Save: £3.41 RRP: £19.40
This product is typically dispatched within 3-5 working days from date of order and is not suitable for our next day delivery service.
Brand: Thermoskin
Code: 2791911
Weight: 175g (includes packaging)
Description
Thermoskin is a new range of therapeutic supports developed for the simple and effective treatment of pain and injury to muscles, tendons and ligaments. It combines support and naturally generated body heat and is a clinically tested, drug free alternative offering pain relief and improved mobility.
Like other supports that are available, Thermoskin products use a highly supportive outer material, but we combine this tried and tested material with an entirely new and unique lining, Trioxon.
Trioxon provides 3 main benefits;
Trioxon assists in the retention of the body's natural heat (typically increasing skin temperature by up to 2 degrees C), thus promoting healing.
The construction of Trioxon allows for much improved ventilation and perspiration control at the affected site. The wearer therefore remains comfortable, and can enjoy the benefits of Thermoskin for longer.
Its crush-resistant fibres give Thermoskin supports greater strength and durability.
Only Thermoskin provides the unique benefits of Trioxon.
Who will benefit from wearing Thermoskin Supports?
Sufferers of well defined complaints such as Arthritis, Tendonitis, Tennis Elbow, Sciatica, Lumbago and Carpal Tunnel Syndrome etc, will all find our supports to be of enormous benefit in the relief of pain and promotion of healing. This is equally true for those suffering from Repetitive Stress Injury (RSI) or sports injuries.
Increasingly, people from widely differing occupations and lifestyles are coming to realise that Thermoskin can help them with Office work, Gardening, Housework, Driving, DIY, Computers, Walking, Games/Hobbies, Building and the aches and pains that New Mums suffer.
If you are one of the reported 2.5 million daily back pain sufferers... or one of the 9 million people who went to their doctor in the last year with joint pain... or just find that your day to day tasks give you stiff, painful wrists, fingers, knees, elbows, hips or backs... then Thermoskin Supports may be what you have been looking for.
Sizing Guide:


| | | |
| --- | --- | --- |
| Size | cm | Inch |
| XS | 28.5 -31.5 | 11¼ - 12½ |
| | 31.5 -33.5 | 12½ - 13¼ |
| M | 33.5 -36.5 | 13¼ - 14¼ |
| L | 36.5 -39.5 | 14¼ - 15½ |
| XL | 39.5 - 41 | 15½ - 16¼ |
| XXL | 41 - 43 | 16¼ -17 |










Measure slightly bent, underneath knee cap.
Directions
Wear your support directly against the skin. Do not use oils, ointments or liniments under the support. When showering or bathing remove the support.
Hand or machine wash in warm water using mild soap. Do not use detergents or solvents. Air dry.
Warnings
Should an irritation or rash develop, discontinue use and seek medical advice.
You may also like