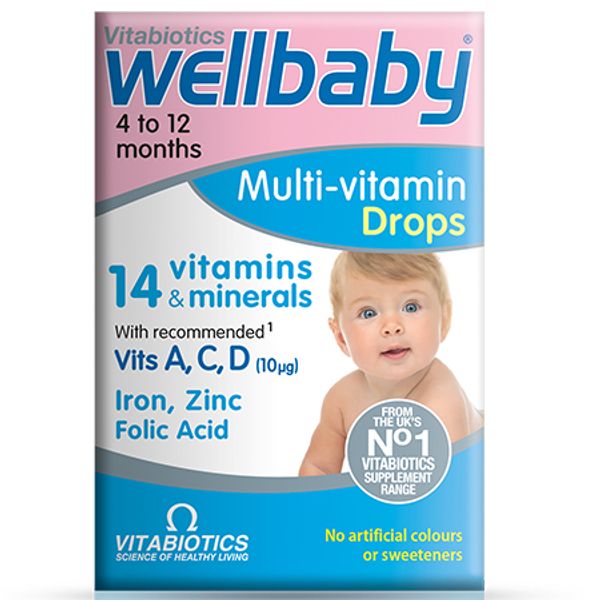 Wellbaby Multivitamin Drops 30ml
This product is typically dispatched within 1-3 working days from date of order when using our standard delivery or 48 Hour Tracked and Signed service.
Description

As a new parent, there's nothing more important than the health and nutritional wellbeing of your baby. Looking after your child's nutritional intake when they are young can help safeguard their long term health. From the makers of Pregnacare, Wellbaby Multi-vitamin Drops is ideal for babies from 4 to 12 months and provides a safe and balanced comprehensive range of 16 nutrients, including essential vitamins and minerals. Wellbaby Multi-vitamin Drops has been produced with a baby's special needs in mind to offer a carefully formulated nutritional safeguard during a time when babies have a high nutrient requirement in relation to body size. This can help to support their rapid physical growth and development of bones, muscles, blood and the brain. Wellbaby Multi-vitamin Drops includes vitamin A, C and D.

The UK Department of Health recommends that all children aged six months to five years should be given a supplement that contains vitamins A, C and D† Source: www.nhs.uk

†Unless they are drinking 500ml (or approx. 1 pint) of infant formula a day, as infant formula has vitamins added to it.

Wellbaby Multi-vitamin Drops is a delicious tasting natural orange flavour and also contains Swiss Alpine Malt as a natural energy source; making it a great taste your little baby will love. A measuring syringe is also included making it easier for you to safely administer the drops onto your baby's tongue ideally just before you do a feed.

Brain Development

Brain development allows a child to develop the abilities to crawl, speak, eat, laugh and walk. Certain nutrients can help support this development such as iron which contributes to normal cognitive development of children.

Once on solid food, vegetarian babies can sometimes be low in iron, as iron from non-meat sources is not as easily absorbed by the body. Wellbaby Multi-vitamin Drops is suitable for vegetarian babies so is an ideal way of helping to ensure your developing baby receives enough iron.

Growth & development of bones

A baby is born with 300 bones and during the first year of life your baby's bones are growing rapidly. Wellbaby Multi-vitamin Drops includes vitamin D3 (the body's preferred form of Vitamin D). Vitamin D is needed for normal growth and development of bones in children. It also contributes to their normal immune system function.

More reasons for your child to take Wellbaby Multi-vitamin Drops

Its formula is based on the very latest scientific research, with nutrient levels carefully selected for the specific needs of growing babies.
Delicious natural orange flavour your little one will love.
Wellbaby Multi-vitamin Drops is produced to high pharmaceutical standards of quality control.
Does not contain any artificial colours, flavours or sweeteners.
Does not contain lactose, salt, alcohol, fat or yeast.
Wellbaby Multi-vitamin Drops has not been tested on animals.
Directions

Babies (from 4-12 months):

0.5ml as marked on the syringe, taken twice daily.

Do not give more than the recommended amount.

Unscrew cap. Insert measuring syrigne into small hole, then hold bottle upside down.
Draw down 0.5ml liquid as marked on the syringe.
Turn bottle upright and remove syringe. Carefully administer drops onto your baby's tongue.
Rinse clean and dry syringe after each use. Replace cap tightly after use.

Do not use in steam steriliser or dishwasher.

Do not use if the bottle seal is broken on purchase, once opened use within 3 months. Shake well before use.
Warnings

Food supplements must not replace a varied and balanced diet and a healthy lifestyle.

As with other food supplements, seek professional advice if your child is under medical supervision, suffers from food allergies, or are allergic to any of the ingredients.

This product contains iron, which if taken in excess may be harmful to very young children.
Avoid contact with clothing and fabrics which may stain.

If desired, Wellbaby Liquid may be given immediately before feeding so any residual liquid is washed off teeth and gums.

Keep tightly closed and store below 25°C in a dry place, out of sight and reach of children.
Ingredients

Purified Water, Granulated Raw Cane Sugar, Malt Extract Liquid (from Barley), Vitamin C (Sodium Ascorbate), Ferric Ammonium Citrate (Green), L-Lysine Monohydrochloride, Zinc Sulphate, Sodium Citrate, Propylene Glycol, Niacin (Nicotinamide), Vitamin E (DL-Alpha Tocopheryl Acetate), Acidity Regulators: Sodium Hydroxide and Citric Acid Monohydrate, Stabiliser: Xanthan Gum, Preservative: Potassium Sorbate, Orange Oil Extract, Pantothenic Acid (D-Panthenol), Vitamin A (Palmitate, Antioxidant: DL-Alpha Tocopherol), Riboflavin (5'-Phosphate Sodium), Vitamin B6 (Pyridoxine HCl), Thiamin (Vitamin B1 as Hydrochloride), Folic Acid (as Pteroylmonoglutamic Acid), Vitamin D3 (Cholecalciferol), Biotin, Vitamin B12 (Cyanocobalamin).
You may also like